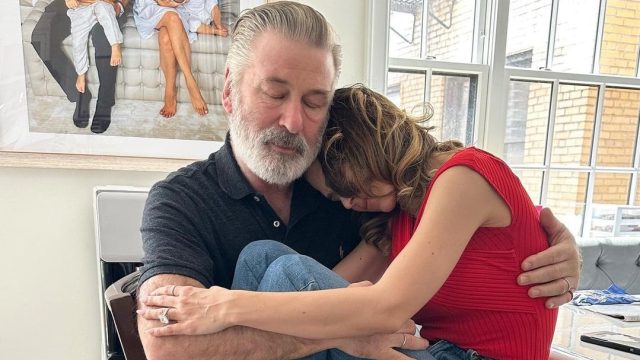 Early this year, prosecutors formally charged Alec Baldwin with manslaughter following the tragic Rust shooting.
The mishap was the result of a confluence of mistakes that should never, ever have happened. No one should die to make a movie.
Additionally, public reactions showed clear influence from politics — and from Alec being personally unlikable. He was controversial even before he held a prop gun that killed a beloved cinematographer and wounded the director.
Now, authorities have dropped the charges (for now). Alec is breathing a sigh of relief, and thanking a couple of people in particular.
On Thursday, April 20, Alec Baldwin's attorneys released a statement, reporting that the New Mexico First Judicial District Attorney's Office had dropped both counts of involuntary manslaughter charges against their client.
"We are pleased with the decision to dismiss the case against Alec Baldwin," his attorneys expressed.
"And," their statement continued, "we encourage a proper investigation into the facts and circumstances of this tragic accident."
Alec Baldwin posted a somewhat low-key acknowledgment. That is understandable; it is difficult to celebrate news, even positive news, under the circumstances.
"I owe everything I have to this woman," Alec Baldwin wrote alongside a jarringly low resolution photo of him with his wife, Hilaria Baldwin.
He also offered an addition: "(and to you, Luke)."
In another context, that addition in Alec Baldwin's caption might make it appear that he is part of a throuple.
However, he was referring to Luke Nikas — one of his attorneys in this case.
Thanking your wife and your attorney is definitely a classy move in the wake of such a complex, ugly, and profoundly tragic series of events.
Alec's wife, Hilaria, offered a much less 2006-cell-phone-camera looking photo of the two of them in a post of her own on Thursday.
Her caption was much simpler — an elegant, tasteful red heart emoji.
And the photo itself showed her curled up on her husband's lap. A sweet moment of marital comfort. Their lives have been in turmoil for some time. Not the greatest tragedy in all of this, but it's not nothing.
Special prosecutors Kari Morrissey and Jason Lewis opened up to Entertainment Tonight in a statement, explaining the decision to drop the charges.
"Over the last few days and in preparation for the May 3, 2023, preliminary hearing," the statement began.
The prosecutors explained that "new facts were revealed that demand further investigation and forensic analysis in the case against Alexander 'Alec' Rae Baldwin, III."
"Consequently, we cannot proceed under the current time constraints," the statement reasoned.
"And," prosecutors then added, "on the facts and evidence turned over by law enforcement in its existing form."
The statement announced: "We therefore will be dismissing the involuntary manslaughter charges against Mr. Baldwin to conduct further investigation."
So they dropped the charges … but that is not the same thing as dismissing a case with prejudice.
"This decision does not absolve Mr. Baldwin of criminal culpability," prosecutors warned, "and charges may be refiled."
The statement assured: "Our follow-up investigation will remain active and on-going." Prosecutors then added that "charges against Hannah Gutierrez-Reed remain unchanged."