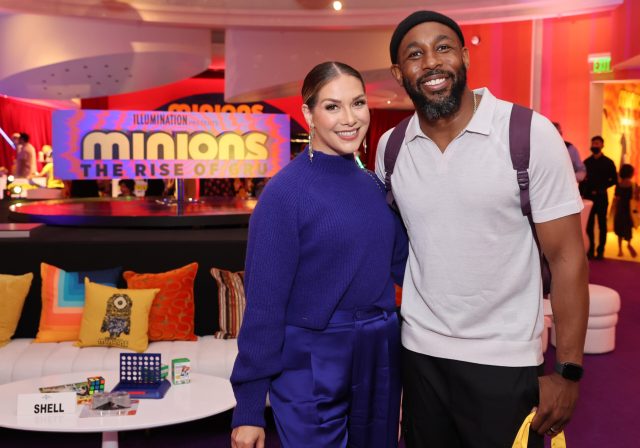 Allison Holker would like everyone to know something important.
Two months after the death of her husband, Stephen "tWitch" Boss, the professional dancer took to Instagram on Saturday in order to show her gratitude.
"I just want to say thank you for all love and support you guys have sent to me and my family at this time," the 35-year old said in a video she posted Instagram.
Holker uploaded this footage in the wake of Boss taking his own life back in December.
"It has been very challenging and emotional, but you guys have brought so much hope and inspiration to us by sharing stories and memories and moments and different ways that Stephen impacted your life," continued Holker.
"It's brought us so much hope and inspiration."
Boss rose to fame as a contestant on MTV's The Wade Robson Project before becoming a runner-up on Star Search.
He then finished second on So You Think You Can Dance in 2008… and joined The Ellen DeGeneres Show six years later as a guest DJ.
Boss eventually became a permanent fixture on the talk show and was elevated to co-executive producer status in 2020.
Holker — who married Boss in 2013 — went on:
"He was someone that was just beautiful, and he lived his life from love and he made you feel a certain way.
"My family and I have always said that we wanted to make sure that our purpose was lived out by bringing joy to people, joy to people's homes, from dance or love — and that's not going to change for us.
"It's going to feel a little bit different, but we know that that's our purpose, and we'll still do that to this day."
The Dancing With the Stars alum and Boss shared son Maddox, 6, and daughter Zaia, 3.
Prior to his passing, Boss also adopted Holker's daughter Weslie, 14, from a previous relationship.
"I hope that we can remember the feeling that he gave us and remember that we can still move from there.
"We can still move and choose love, and we can still choose grace and we can still choose kindness," Holker told followers.
"And I will always be there for you guys, and I appreciate you guys being there for us at this moment. It goes a really far way for us, so thank you. And I hope you guys remember how special you are and how much of an impact you make around the world and continue to move from there.
"We love you guys."
Boss was laid to rest at a small family funeral on January 4.
About a month later, hundreds turned out for a celebration of life in his honor.
"To my husband, best friend, babe, Chee-chalker, Superman and father of my children I LOVE YOU FOREVER and ALWAYS!" Holker previously captioned a slideshow of happy moments with Boss.
"We will forever remember you as the true beacon of light that you were and we will continue to cast your light and love throughout the world.
"Thank you for our incredible memories and our beautiful life shared together."