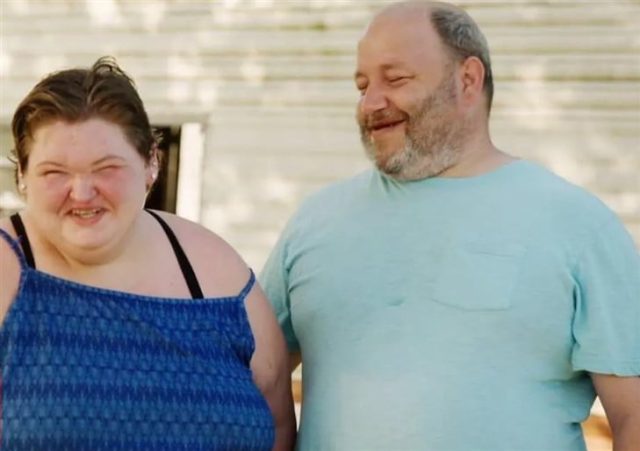 We have an update on the surprising scandal that has cropped up around Amy Slaton and Michael Halterman.
As previously reported, the 1,000-lb Sisters star and her husband of four years are headed for a divorce; Halterman filed the legal papers in Kentucky on March 13.
This was unexpected enough on its own.
We then learned, however, that Slaton was granted an order of protection against her spouse about two weeks before the marriage officially came to an end.
According to a 911 call dispatch on February 24, Amy claimed Michael started "throwing things" during an intense argument between the spouses.
The couple were arguing about their split; and, according to this same report, neither was under the influence of drugs or alcohol when an officer arrived on the scene around 2:30 pm.
"Amy wants to separate, but the male doesn't want to," the cop later documented.
The 1000-lb Sisters star also claimed Michael eventually "became violent" and started "throwing things" with two-year old soon Gage and eight-month old son Glenn present in the home.
Frightening stuff, for sure.
Now, meanwhile, The Sun has confirmed that a judge just ruled Michael is allowed contact his two young kids… as long as he is supervised.
The official memo reads that Halterman is "allowed supervised contact with children, no physical discipline, supervised by mother and sister."
Neither Amy nor Michael has commented in public about their split or about this alleged altercation.
An insider previously told The Sun that Michael acting as somewhat of a deadbeat dad stands was the main reason why Amy has become unhappy in her relationship.
Amy is currently living with her kids in sister Tammy's house, along with Glenn and Gage.
"Amy says Michael is lazy, and has been jealous of her attention toward the kids," The Sun reported several days ago, adding of a timeline:
"They've been having trouble since last year."
The estranged spouses eloped in 2017, and then had a more official ceremony in 2019.
"I can't believe the day is finally here," Slaton said during a 2020 episode. "This is about me starting a new life with my husband."
Alas, Amy will now need to start yet another new life.
But it sounds like she'll have the support of her loved ones.
After all, Amy has been "feeling overwhelmed" of late, The Sun recently added, while another source has told this outlet of Halterman:
"No one in the family likes Michael."
We'd have to imagine details about the break-up will be featured prominently on the back half of 1,000-lb Sisters Season 4.
Those episodes will start filming soon.