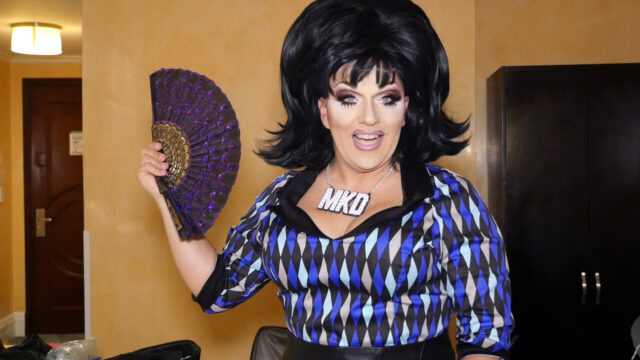 A recent recipient of the Creative Capital Award, Impact Award at Indiecade, and the Franklin Furnace Performance Fund, Angela Washko's art practice has been highlighted in The New Yorker, Frieze Magazine, Time Magazine, The Guardian, ArtForum, The Los Angeles Times, Art in America, The New York Times, and more. Her projects have been presented internationally at venues including Museum of the Moving Image, Kiasma Museum of Contemporary Art, Los Angeles Museum of Contemporary Art, the Milan Design Triennale, and the Rotterdam International Film Festival. She is an Associate Professor of Art at Carnegie Mellon University.
"Workhorse Queen" is screening at Slamdance Film Festival today, February 12.
W&H: Describe the film for us in your own words.
AW: "Workhorse Queen" is a film exploring the impact of reality television on drag communities in smaller cities. The film follows Ed Popil, a telemarketer who pursues a full-time entertainment career at the age of 47 as his drag queen alter ego Mrs. Kasha Davis.
"Workhorse Queen" gives a glimpse into how being cast onto "RuPaul's Drag Race" transformed Ed's life and career, how divisive this reality television platform has been to his local community, and how he has found his greatest fulfillment as a performer and a person creating a variety show for children back in his home of Rochester, NY.
W&H: What drew you to this story?
AW: As an artist, my main focus has been on how mainstream media and technology have impacted public perception and understandings of gender and sexuality. I also have a background in performance art and drag has been an important part of my earlier performance work as well as the event organizing and exhibition curating I do.
I have been watching "RuPaul's Drag Race" since it started in 2009. When Mrs. Kasha Davis was cast onto the show in 2015, I thought to myself, "What an unusual queen for reality TV!" A lot of queens who have been on the show are these super glamorous model-like aspiring pop stars or comedian divas. Mrs. Kasha Davis was different in that she had such a specific persona. Her persona is this 1960s housewife figure and an homage to Ed's own mother. I thought it was actually quite subversive and political to represent the domestic struggles of women of that era – to create a character who performs at night in secret as an escape from her domestic toil as an homage to the women of that time!
Mrs. Kasha Davis was eliminated quite early from Season 7 of "RuPaul's Drag Race," so I started looking for more information about how this persona was developed by viewing all of the YouTube videos Ed's husband, Steven, had made of Mrs. Kasha Davis and watching interviews. Ultimately, I started uncovering more complexities to Ed's story that never got aired on the show. Ed came out later in life, when he was nearly 30, after a long time of being closeted and even being married to a woman. He fled Scranton, Pennsylvania, to go to Rochester, NY, which he saw as a sort of gay paradise, and invested heavily in the prolific post-industrial Western New York queer community.
Ed has really struggled with the precarity of being an artist, pursuing this career so late in life, and ended up hitting rock bottom shortly after his time on reality television and had to go through rehab and figure out how to continue to work in nightlife culture sober. All of these things drew me into looking at Ed's life as a way to speak to how reality television has changed drag culture and what it means for the drag performers who don't really fit comfortably into the television mold.
W&H: What do you want people to think about after they watch the film?
AW: Things are complicated! Right now we're living in a time where we're online more than ever because of the pandemic. Internet discourse has put us into a position where we are rewarded for having the most extreme and loud views on things. You have to either love "RuPaul's Drag Race" because it's one of the only mainstream entertainment platforms for drag, or you have to hate it because it has been exclusionary to nonbinary performers, transgender performers, cisgender women who do drag, drag kings, older queens, and it is making drag feel less subversive and political.
Ed has struggled to be himself his whole life and came up in an environment where there were no gay role models, and as a result of that sees "RuPaul's Drag Race" as an important part of bringing the queer community to television. Ultimately, the show wasn't the only platform for him – and he shouldn't have to have his merit as a performer determined by reality television.
A lot has been said about what is amazing about "Drag Race"– but I don't know that we've seen much of how hard it is for the performers who've been on the show to pursue the dream that it offers, especially for the people who haven't developed the larger fanbases. I hope viewers think about what it means for someone who is nearly 50 years old to leave a comfortable full-time career doing suburban telemarking to pursue the fame promised by reality television and how that pursuit is so indicative of and unique to the era we are in.
W&H: What was the biggest challenge in making the film?
AW: There were many challenges! Fundraising has certainly been one of the biggest challenges. The biggest challenge besides fundraising has been the process of working on something this personal, revealing, and public with a living person! I admire how vulnerable Ed ultimately made himself, but it was hard for him initially to be open and honest about the challenges of what he's going through.
In the beginning he wanted to overperform — especially since he's a professional entertainer — and qualify everything he said with how grateful he is and how honored he is that anybody is interested in him. And I do believe that he is grateful and honored! But at a certain point we had to have a conversation about letting the wall down and letting people in to see all of the labor going into maintaining the career of Mrs. Kasha Davis, which was really scary for someone who wants to always look bright and cheerful and inspire positivity and hopefully get more followers on Instagram so Mrs. Kasha Davis gets booked at bigger and better gigs!
There's some desperation underneath what this reality television platform sets these performers up to pursue after their time on the show, and I admire that Ed was willing to go into some of that. But it was hard on him and it was hard on me too – I saw some very low moments and was often the only witness to them.
It's such a personal film – it's not just the film that's up for criticism in some ways, it's Ed's life – so I'm sensitive to that and there have been a lot of difficult conversations throughout filming and post-production.
It was also really interesting to me to see this divide that was created between members of Ed's Rochester community because of this TV show, and as I became increasingly interested in the perspectives of the people who felt left out, there was some natural insecurity from Ed about what the film was becoming.
What got left out of the film was also really hard to navigate. Ed's father died during post-production and it was hard to decide if that should be in the film or not. A living subject's life is always changing, so deciding when to stop filming was one of the hardest parts as well.
W&H: How did you get your film funded? Share some insights into how you got the film made. 
AW: Initially, my main strategy for fundraising was looking to grants from the university where I teach, Carnegie Mellon University, and large-scale artist grants that I was eligible for based on my existing practice as a media artist. My production costs were low, as I shot the film myself with some production assistants and additional camera people. Many of the locations we traveled to in the film, it was either just me and an additional person or two capturing sound and secondary camera, and in Australia it was just me!
I massively underestimated the cost of post-production and had to do another major round of fundraising focused on sound mix, additional editing, color grading, VFX, and legal. For this round, I applied for more grants, reached out to individual donors, and did a small crowdfunding campaign.
As an individual artist operating as my own director, producer, writer, cameraperson, art director, and post-production supervisor, I found fundraising to be one of the most difficult parts of the filmmaking process as it's not nearly as transparent to an outsider as the rest of the process, and a lot of it is reliant on privilege, networking, and likelihood that the film will do well commercially.
It was hard to hear industry experts who previewed the film in its rough cut stage say, "Oh, all you need is an executive producer at $50,000 and they should be easy to find – anybody would want to come on board this film!" when I'm so new to the independent filmmaking context!
W&H: What inspired you to become a filmmaker?
AW: I don't know if I fully feel like a filmmaker! I still feel like a media artist who bounces around between different narrative forms. My next project will probably be a storytelling video game and maybe I'll come back to filmmaking after that!
I was inspired to work in documentary film because it really felt like the right medium for this specific story. I knew I wanted to try to work with Mrs. Kasha Davis and unearth more of the story of how reality TV has changed Ed's life and career – and I knew I needed to closely observe what was going on. I knew I wanted to be around for the highs of touring, and be around for the empty calendar weeks at home in Rochester.
Documentary film felt like the right format to allow for that kind of observation in tandem with storytelling through the existing footage captured by Ed's husband of the early years of Mrs. Kasha Davis. It also felt like it would allow the project to have a broader audience than the audiences that go to galleries and museums – which felt right for the story and for Ed's future as well.
This maybe isn't the most romantic answer ever! But I feel like my process is still more like that of an experimental media artist who has studied the documentary storytelling form and felt that this story was best suited by it! The story is about how mainstream media has impacted this incredibly subversive subculture and community, so having a mainstream audience for the film ultimately felt right!
W&H: What's the best and worst advice you've received?
AW: Best advice: Go with professional sound mix! The film's amazing composer, Jesse Stiles, was very convincing in getting me to invest in professional sound mix with Nocturnal Sound. He was right. Good sound makes an incredible difference in the experience of the film!
Worst advice: I think some people were initially doubtful about why my subject is interesting, especially in the fine art world where there is frequently a lack of interest in mainstream media and certainly a dismissal of reality television as worthy of investigation. There have certainly been some people who see this as outside of the work that I'm known for and would prefer to see me make more video games about how awful the manosphere and men's rights activists are.
I think sometimes it is hard to break with what you're known for and I knew I really needed to make something that felt warm and exciting to me – I needed to take a break from investigative projects about pickup artists and misogynists in gaming.
I had to trust my intuition and dive headfirst down the Mrs. Kasha Davis rabbit hole without clear affirmation that I was onto something interesting. This film was made because I couldn't stop thinking about Mrs. Kasha Davis and had a hunch that there was something more there that I missed out on as a viewer of "RuPaul's Drag Race" – and pursued the hunch in the most committed and enthusiastic way I could. Ultimately, as a result I hope that the film presents unique perspectives on reality television and drag culture.
W&H: What advice do you have for other women directors?
AW: Don't be afraid to ask for help. I think as a woman working in tech, academia, and now in film, there's a lot of anxiety about appearing as though you're an expert and that you know everything. You feel pressured to perform competence in a very specific way. Part of that is useful for protecting the people you want to work with and making them feel as though they're investing in something substantial that will be worth it to them. But sometimes in trying to hyper-perform that competence, you get scared of asking for help because you feel like it might out you as an imposter who shouldn't be there.
Ask for help. I am so glad I reached out to established film people for help navigating this industry. It's really hard to do it alone in film – when you come from a fine art background you're used to the narrative of the individual genius toiling away in their studio until they have their magical individual stroke of genius.
With film, I think it's been an amazing opportunity to work with lots of geniuses and see what we come up with together. I'm so thankful to Sunita Prasad, the film's supervising editor, who said very frankly to me in our first meeting about the film in New York, "You need more help. Here are some people who would be interested in your film who may want to work with you!"
W&H: Name your favorite woman-directed film and why.
AW: Some recent women-directed documentary films I love are "Mucho Mucho Amor" and "Dick Johnson Is Dead."
I loved "Mucho Mucho Amor" because I'm drawn to stories that are complex — that don't cave into the pressure to have all of the answers. "Mucho Mucho Amor" is a beautiful story about Walter Mercado, an incredibly compelling television personality to begin with, but what I love is that Cristina Costantini and her co-director Kareem Tabsch manage to bring life to Mercado's story but allow for parts of his life to remain private and ambiguous despite tremendous pressure for black and white answers about his personal life.
I loved "Dick Johnson Is Dead" because it as a film is part performance art-experiment, part dreamy re-enactment, and part heart-wrenching story of family, memory, and loss. I cannot imagine having the vulnerable, tightknit, and darkly hilarious relationship that filmmaker Kirsten Johnson has with her father, but I truly, deeply wish that I did.
W&H: How are you adjusting to life during the COVID-19 pandemic? Are you keeping creative, and if so, how?
AW: I found out that I was pregnant right at the beginning of the pandemic, so that has made my experience of the pandemic a little bit different, to say the least! I have a three-month-old baby now and I'm definitely figuring out how to stay safe, make creative work, and raise this beautiful child during this time.
We just locked picture on "Workhorse Queen" two months ago so I have been working with editors, the composer, the visual effects, and color grading artists to finish this film during COVID. It's been a hard adjustment, but the whole film industry had to adjust to working remotely, and this was actually kind of convenient during the later stages of my pregnancy! I didn't have to travel to New York again for editing and sound mix. Everybody is figuring out remote workflows, which also makes being based in Pittsburgh for my teaching job less of an inconvenience than it was before.
W&H: The film industry has a long history of underrepresenting people of color onscreen and behind the scenes and reinforcing — and creating — negative stereotypes. What actions do you think need to be taken to make Hollywood and/or the doc world more inclusive?
AW: I am new to the film industry. Most of my work exists within a fine art context – within museums, galleries, conferences, and media art festivals. But in my new experience working in the documentary film context, it takes a tremendous amount of financial support to make the kind of films that get sales agents and commercial distribution. Of course there is the cost of production and post-production, but the unexpected costs around legal counsel, publicity, and administration of films – it's overwhelming and hard to navigate. Therefore, it's critically important that funders support voices that are underrepresented.
It's important that grant agencies make it a priority to fund films by and about communities of color. When making decisions about who to hire to edit the film and collaborating with longtime friend Sunita Prasad, the Supervising Editor of "Workhorse Queen," she connected me to Brown Girls Doc Mafia and the Karen Schmeer Diversity in the Edit Room Fellowship Program. Through these communities, I became connected to and worked with Jota Sosnowski (Editor) and Sonia Gonzalez-Martinez (Additional Editor).
People working in the industry need to pay attention to self-organized collectives like Brown Girls Doc Mafia and support these initiatives through funding and hiring from them.