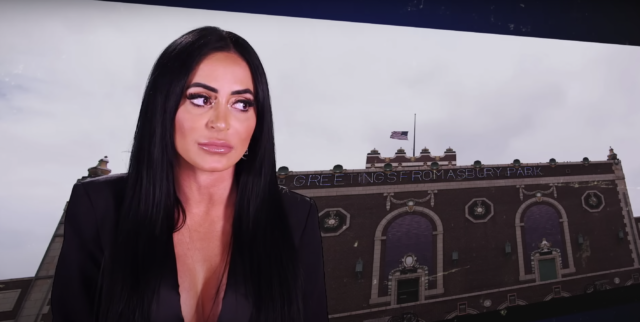 It's been almost three years since Angelina Pivarnick married Chris Larangeira in a big, gaudy ceremony in New Jersey.
But the former couple's wedding is still a source of continual drama.
For starters, there's the matter of Angelina and Chris' divorce, which is about as ugly as everyone predicted it would be when they got married.
On top of that, there's the ongoing strife surrounding the speech that Angelina's bridesmaids delivered at the reception.
As you're no doubt aware, Snooki, JWoww, and Deena Nicole Cortese, made some unfortunate remarks during their toast, and then Angelina leaked the video of their speech to the media.
Yes, at this point, we're calling it — Angelina leaked the speech, and she's lashing out at Mike Sorrentino and everyone else in path in an effort to cover her tracks.
"I don't understand why Mike felt the need to want to contact him or answer his s–t. What does it have to do with you?" Angelina griped during last night's Jersey Shore, as she spoke with her sister about all the drama.
"I did not leak s–t … the fact they believe what he's saying, it's ridiculous. Instead of having their support, I don't. I'm so f—ing done."
Later in the episode, the whole cast — except for Ange — attended a charity event for autism awareness, where Jenni delivered a moving speech about her son Greyson.
Never faltering in her ability to make everything about her, Angelina fired off angry texts at Mike during the event.
"Mike, you and I need to have a sit down, TOMORROW!" she wrote.
We didn't get to see that conversation last night, but we did get to see Pivarnick square off against the Meatballs.
"Why are you guys mad?" she raspily asked Snooki and Deena.
"So, as you know, Mike had talked to Chris or whatever … and we heard Chris say he has receipts that you were the one that leaked the speech," Deena patiently explained.
"When we heard all that stuff from Mike, it brought up a lot of emotions and then we see all these articles happening," Snooki elaborated.
Angelina called them out for "taking the bait" and falling for a con job from Chris, whom she alleged was "literally telling you guys bulls–t."
But Snooki and Deena remained steadfast and made it clear that they believe Angelina leaked the speech.
"You hated us," said Deena.
"You said, 'I'll get the last laugh," Snooki recalled.
"I know in my heart of hearts that Angelina was so mad at us that she leaked this speech," Snooki added in a confessional.
"I would love for her to admit it, but girl, it is what it is. Let's just all move on and never talk about it again."
Shifting the focus (possibly out of guilt) Angelina questioned the Meatballs' decision to tweet about their beef with her.
"We're sorry that happened," said Nicole.
"We should not have tweeted, that was really immature of us," Deena chimed in.
"I take full responsibility for that. I should have been like, 'Did you really f—ing leak the speech?'"
"I would have said, 'F— that, I didn't leak it,'" Angelina said, again fighting a losing battle.
Perhaps realizing that she would never convince Snooki and Deena, Angelina once again pointed the finger at Mike.
She complained "stirred this whole f—ing thing up" by reporting Chris' leak allegation to the rest of the cast.
"It doesn't matter who reached out … the fact he's taking phone calls from him and spewing it to you guys. Is Mike 'The Situation' a changed man? I don't know anymore," she seethed.
Next week, we'll probably see Angelina confront Mike.
What we'll never see is Angelina taking responsibility for her actions.