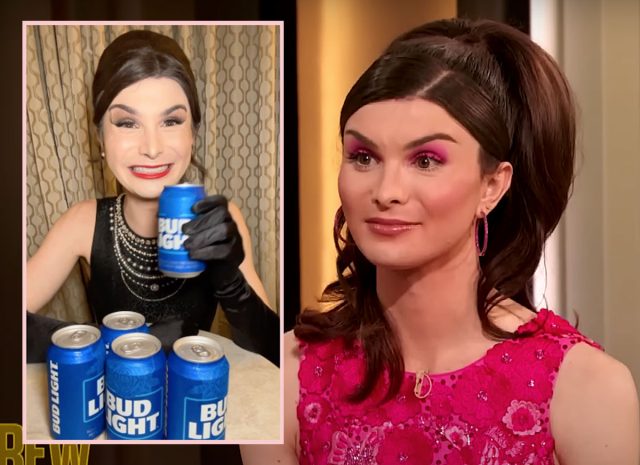 The CEO of Anheuser-Busch has released an "apology" following its partnership with TikTok star Dylan Mulvaney.
As we're sure you know by now, the trans influencer was the target of some seriously heavy hate following her brand deal with Bud Light, which is a beer brand under the Anheuser-Busch company. Right-wingers just couldn't cope with the inclusivity (as per usual) and had what was probably one of the most embarrassing social media meltdowns to date. Seriously — Dylan is full of nothing but sunshine and they're so anti-trans they can't even see past her identity. Sad!
Related: Dylan Shows Off Results Of Her Facial Feminazation Surgery!
After Kid Rock shared a video to his Twitter in which he open fired on multiple cases of Bud Light with a submachine gun, before turning to the camera and spouting "F**k Bud Light and f**k Anheuser-Busch," we suppose the company felt like they needed to take the controversy to head-on. And they did it in a very non-apologetic way — because quite frankly we can't even tell what they're apologizing for!
In a statement that was released by CEO Brendan Whitworth on Friday, he did a good job of not really addressing anything. In the write-up titled Our Responsibility To America, he said:
 "As the CEO of a company founded in America's heartland more than 165 years ago, I am responsible for ensuring every consumer feels proud of the beer we brew. We're honored to be part of the fabric of this country. Anheuser-Busch employs more than 18,000 people and our independent distributors employ an additional 47,000 valued colleagues. We have thousands of partners, millions of fans and a proud history supporting our communities, military, first responders, sports fans and hard-working Americans everywhere."
Ok…
He left readers scratching their heads with the vague statement:
"We never intended to be part of a discussion that divides people. We are in the business of bringing people together over a beer."
Okay, but the divisiveness is on the people who keep wanting to exclude the LGBTQ+ community, it's not on the decision to work with Dylan!
Wrapping up his lengthy note, Whitworth said:
"My time serving this country taught me the importance of accountability and the values upon which America was founded: freedom, hard work and respect for one another. As CEO of Anheuser-Busch, I am focused on building and protecting our remarkable history and heritage. I care deeply about this country, this company, our brands and our partners. I spend much of my time traveling across America, listening to and learning from our customers, distributors and others. Moving forward, I will continue to work tirelessly to bring great beers to consumers across our nation."
So… he's going to continue to run the company? And they're going to continue to make beer??
Lots of analysts and branding experts have come forward and questioned Bud Light's decision to partner with Dylan since her audience doesn't match their target demographic — but if we're being real, we all know why they're spouting this! Brands partner with influencers all the time, a lot of which don't fit their target demographic, but of course if one of them is trans everyone loses their minds. Call it what it is — transphobia.
Communications consultant Frank Luntz told DailyMail.com earlier today staying silent is "admitting guilt" and the company would never "be forgiven" amid all the backlash if they didn't say anything. Whereas crisis communications expert Gerard Braud warned the company SHOULD stay silent during all this because any post would "trigger an onslaught of comments" about the controversy. So instead of staying completely silent or speaking out, the company seems to have chosen the middle ground — say something while saying nada.
Anheuser-Busch really said a whole lot of nothing while attempting to put out the flames (that we doubt will die down anytime soon thanks to weird right-wing social media users)! What do U think about their statement, Perezcious readers? Let us know (below).
[Image via Dylan Mulvaney/Instagram/The Drew Barrymore Show/YouTube]