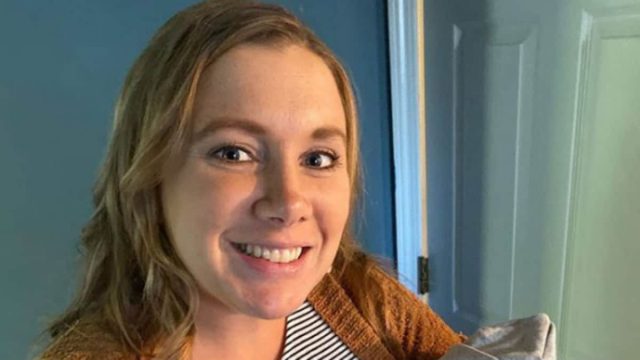 Josh Duggar has victimized countless women over the course of his life.
And while some might condemn her as an accomplice, Anna Duggar is undoubtedly one of the people who's suffered the most as a result of Josh's atrocities.
Anna, as you're likely aware, is Josh's wife and the mother of his seven children.
She stuck by his side when Josh was arrested for receiving and possessing child pornography, and she remained loyal after he was sentenced to 151 months in federal prison for his crimes.
These days, there's a tremendous amount of interest in how Anna is coping following the complete destruction of the life she once knew.
After all, she was never permitted to work outside the home or receive any formal education, so she's hardly equipped to provide for seven children.
And shockingly, insiders say Anna still believes that Josh is innocent and will soon be exonerated.
Given that that level of delusion, we can only assume that she's one of many who have been brainwashed by Jim Bob Duggar and the cult-like Institute in Basic Life Principles.
It's a horribly sad yet undeniably fascinating situation.
So it's in the spirit of genuine inquiry — and perhaps a bit of morbid curiosity — that we bring you:
Answers To the Most Common Questions About Anna Duggar
How old is Anna Duggar?
Anna Duggar was born in June 23, 1988, which makes her 35 years old.
A native of Hilliard, Florida, Anna is a product of a fundamentalist upbringing — but hers wasn't nearly as strict as Josh's.
The Duggars' bizarre belief system is the basis for the culture of misogyny and abuse the family has created, and Anna had the misfortune to marry into it, possibly without fully realizing what she was getting involved with.
How Did Anna and Josh Duggar Meet?
The fifth of eight children, Anna met Josh at a convention for homeschooled kids in 2006.
After receiving Jim Bob's seal of approval, she was promptly married off to her new beau and forced to leave her old life behind.
The early days of the couples' relationship were featured on the Duggars' first TLC reality show, which is how most viewers came to know the family's strict courtship rules.
Anna and Josh married on September 26, 2008, and as required by their faith, they shared their very first kiss after being declared man and wife.
In keeping with Duggar tradition, Anna welcomed her first child less than a year later.
Is Anna Duggar Still Married to Josh?
Anna Duggar is still married to Josh, despite the fact that he's currently serving a 12-year federal prison sentence on child pornography charges.
Insiders say Anna still believes that Josh is innocent and is convinced that her husband is merely the victim of an anti-Christian conspiracy orchestrated by the Biden administration.
We're unable to confirm or deny those reports, but it's certainly true that Anna has stood by her man despite countless scandals.
Sources say Anna has cut off all contact with several of her in-laws, including Jill and Jinger Duggar, both of whom have publicly expressed their belief that Josh is guilty of the crimes of which he was convicted.
Having never earned any income of her own, Anna is completely reliant on the Duggars for support these days, but fortunately for her, Jim Bob and Michelle share her belief that their son has done nothing wrong.
Is Anna Duggar Pregnant?
Anna Duggar has given birth to seven children by Josh, but she is not currently expecting another.
The rumors that she's hiding a baby bump seem to crop up every few months or so, despite the fact that Josh has been imprisoned since December of 2021 and is not allowed to receive conjugal visits.
Anna was pregnant throughout much of Josh's trial, and her seventh child, Madyson Lily Duggar, was born on October 23, 2021.
Josh, of course, was imprisoned less than two months later, and Madyson will be at least 10 years old by the time he's released.
It likely hasn't been easy on Anna raising such a sizable brood with no steady income.
Fortunately, she continues to enjoy the support of her equally delusional mother- and father-in-law.
Where Does Anna Duggar Live?
These days, Anna and her seven kids live in the Duggars' so-called "big house" in Tontitown, Arkansas.
The 7,000-square-foot property was custom built according to Jim Bob's designs back when he and his family first hit it big.
As the patriarch does not believe that children are entitled to privacy, there are very few bedrooms in the house, so it's not clear exactly how Anna and her kids have managed to squeeze in.
Jim Bob and Michelle have 28 grandchildren, and you can be sure that Anna has a special place in their hearts for birthing a quarter of those.
That's a fortunate set of circumstances, as Anna and her in-laws do not see eye-to-eye on all matters, and insiders say tensions have been quite high at times.
And she's dependent on Josh's parents for far more than just shelter.
What Is Anna Duggar Doing Now?
It appears that Anna's days are occupied with homeschooling her kids and preparing their meals — activities that likely leave very little time for anything else.
Like most Duggar women, Anna is not permitted to work outside the home, and since she received no formal education in her youth, it's unlikely that she would qualify for any employment that would enable her to support seven kids.
At one point in the recent Duggar documentary Shiny Happy People, an interview subject noted that Anna could probably secure a very lucrative publishing deal if she decided to write a memoir.
Obviously, that's the last thing that her in-laws want, and since Jim Bob Duggar is very rich, he's in a position to make sure such a project never comes to fruition.
Sure, Anna might be able to sign a six-figure book deal, but after that, she would be on her own.
Currently, Jim Bob takes care of all of her family's financial needs, and the idea of abandoning that arrangement is probably terrifying to Anna.
Yes, other Duggar women have spoken out against Jim Bob — in fact, Jill Duggar appeared in Shiny Happy People and offered a harrowing account of her upbringing.
But Jill is married to a lawyer, and she makes a ton of money from sponsored content deals.
Add to that Jill's claims that she never received a dime from Jim Bob, and it's a little easier to understand why she might have felt comfortable severing ties with her wealthy parents.
And if Anna were to turn her back on the Duggars, it's not just financial support that would be taken from her.
Caring for seven kids is no easy feat, and at the Duggar compound Anna has plenty of help.
In addition to her mother-in-law, Anna receives assistance from Josh's eldest sister, Jana.
Jana has chosen not to marry or have children of her own, and she currently functions as a sort of live-in nanny for the entire Duggar clan, providing round-the-clock care for not only her younger siblings, but for her nieces and nephews, as well.
We guess for all of the suffering they've caused her, it's only fair that the Duggars make Anna's life as a prison widow a little bit easier.
It's the least they could do.
And that brings us to our final question …
How Is Anna Duggar Doing?
It's impossible to say for sure how well Anna is coping with the recent turmoil in her life, but she appears to be holding up surprisingly well.
Insiders say Anna is bolstered by her faith, and she's stood firm in her belief that God forgives, and Josh will eventually be found not guilty on appeal.
Of course, Josh is guilty, and he'll almost certainly serve out the entirety of his sentence — but at this point, we don't blame Anna for doing what she has to do to protect her mental health.