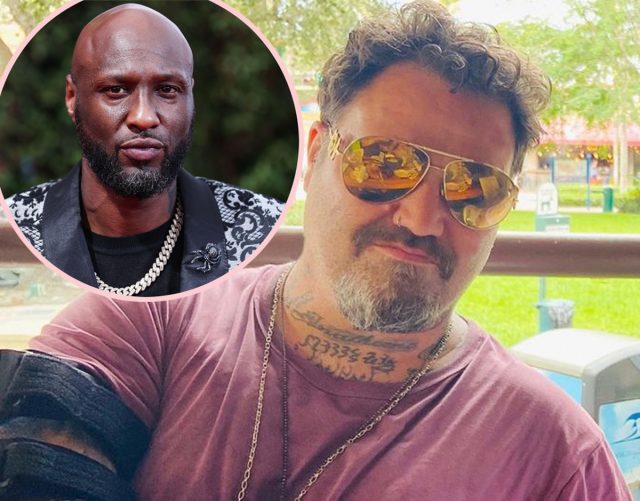 Lamar Odom is willing to do whatever he can to help Bam Margera amid his struggles with addiction.
While speaking with TMZ in Manhattan Beach, California, on Friday, the 43-year-old basketball player shared that he would assist Bam by getting him into a treatment program for his substance abuse issues. Lamar, who has similarly battled addiction, now runs three rehab centers in California called Odom Wellness Treatment Centers – and even offered up a spot to the Jackass star at his place for free. He told the outlet:
"Well, he's got God in his life? A relationship with Jesus Christ should help. But if his problem is alcohol and drugs, I would reach out my hand to him and get him bread in my facility, my wellness center. I've been through it. If he wants the help, then it's here for him. I'm reaching out my arms to him."
Related: Bam Introduces His New Girlfriend — While Shading The Mother Of His Kid
When asked if he would "take care of him" for no charge, Lamar agreed, saying to the outlet that "all he has to do is show up" to the wellness center. However, the former athlete noted Bam should only come "if he wants it though" since "you have to want it" in order to overcome this battle. He then concluded with this message to the television personality:
"I love him and just stay strong."
What a kind gesture from Lamar…
So what does Bam have to say about the offer to stay at one of Lamar's rehab facilities for treatment? The skateboarder accepted the help. Per TMZ, Bam said in a since-deleted video posted on Instagram Friday in which he also slammed his family members:
"Lamar Odom, I just heard your message. And yes, I do want your help."
Wow. As you may know, this latest update comes after Bam turned himself in after four days on the run from the police following an alleged altercation at his home in Pennsylvania. His brother Jess Margera claimed the MTV star was evading the cops with his girlfriend Jessica and her daughter and using meth. Bam addressed the matter in a series of statements on Insta, saying:
"Well my brother made false accusations of me being on meth. But when I wear to god and Phoenix the wolfs life I'm not, I went with my lawyers to urgent care. Guess what Jesse margera. The results are negative. Now you will be evicted from castlebam sooner than later. Get your f**k in s**t out HOMOner. Oh wait… not no more"
He then added in a follow-up post that he will stop drinking for his son Phoenix :
"For the sake of Phoenix the wolf. Today is the day I will stop drinking. I have been through official termoil with my family. My dumb brother doesn't understand that it's not called castle Jess. It's actually called castlebam. It's mine."
We'll have to see if he goes through with Lamar's offer. But we continue to wish Bam and his family nothing but the best and hope he truly gets the help he needs.
If you or someone you know is experiencing substance abuse, help is available. Consider checking out the resources SAMHSA provides at https://www.samhsa.gov/find-help/national-helpline or check out StartYourRecovery.org
[Image via MEGA/WENN, Bam Margera/Instagram]