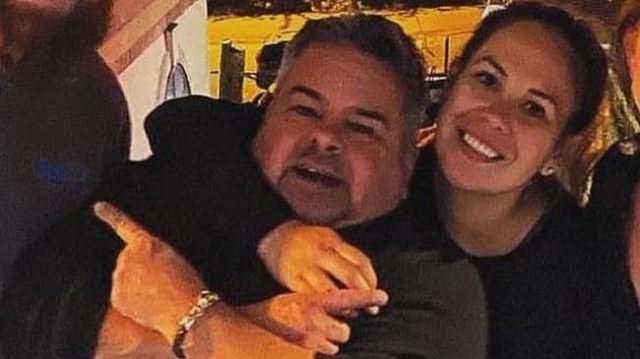 90 Day Fiance fans know two things about Big Ed Brown.
The first is that he cannot stop being gross, especially about women. The second is that Liz Woods seems unable to quit him. He's a bad habit that won't go away.
It's at the point where people aren't just calling out their fights. Even their public displays of affection make people's hackles rise.
Nowhere is that more evident than in the responses to Ed's recent pic. What's the opposite of "couple goals" again?
58-year-old 90 Day Fiance villain Big Ed Brown and his on-again, off-again fiancee Liz Woods recently spent time with friends.
"Wonderful birthday night visiting in Eureka Springs," Ed captioned the above photo.
For many 90 Day Fiance couples, the somewhat cozy photo of the pair with friends would have received a mild response, approval, or nothing at all.
Not so with these two.
Replies condemned Ed for being who he is and Liz right alongside him, mostly for taking him back about a dozen times despite ample reason to leave him in the dust.
Some accused them both of having "severe behavioral health issues." Another succinctly wrote that Ed and Liz are "both bonkers."
This is one of those scenarios where context is everything. Because, if it weren't Big Ed and Liz in the photo … it would not be getting these reactions.
(There are other couples who would attract similar negativity — Angela and Michael, Paul and Karine, and more … but this kind of backlash is a tall order within the fandom)
Simply put, almost everyone who is familiar with his antics despises Big Ed. (Some people only know him as a meme) And a lot of people loathe Liz, albeit mostly for guilt by association reasons.
In other words, Big Ed kind of sucks, so people don't like to see him doing much of anything. He could sweep a porch and people would boo.
That doesn't mean that the "boo" is invalid. Far from it.
And people are particularly unhappy to see Ed and Liz still together. It's not just that people are sick of them — it's that Ed mistreats Liz in ways that are very upsetting to witness.
Of course, Ed haters might want to get used to the idea of seeing these two put on their distressing clown show again.
Earlier this year, they were part of an "all stars" spinoff that filmed in the Florida Keys. The title remains unannounced, but we know that it's happening.
So unfortunately, Liz's personal mistakes will continue to haunt viewers.