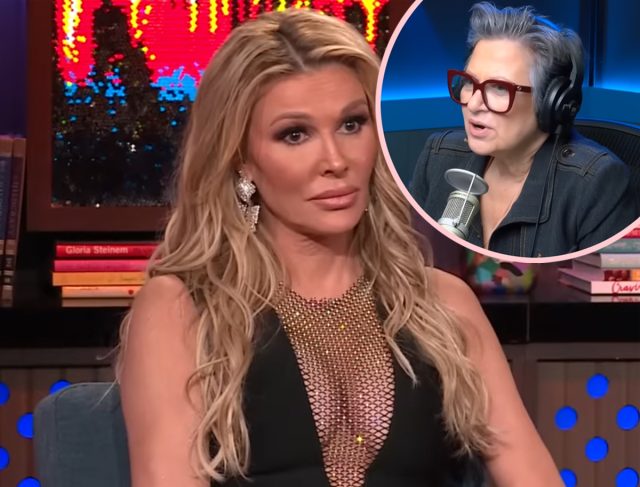 [Warning: Potentially Triggering Content]
There was a lot more going on behind the scenes of filming season four of Real Housewives Ultimate Girls Trip with Brandi Glanville than just the incident with former co-star Caroline Manzo!
In case you haven't been keeping up, reports first came out last month that The Real Housewives of Beverly Hills alum was kicked off the Bravo show after she "took things too far" with Caroline and kissed "her multiple times throughout the evening without her consent" during a party in Marrakesh, Morocco. However, it turns out it was more than just a kiss! A source for Page Six later revealed Brandi allegedly touched the former Real Housewives of New Jersey star in the breast and genital areas — without her consent — while they were off-camera and in a bathroom with two other cast members. WTF.
Brandi slammed accusations on Twitter, writing for everyone to "check your sources" alongside the poop emoji. But now, more sources have come forward to reveal some new claims about the reality star's time on the set of RHUGT!
Related: Kim Zolciak Biermann's Mansion Reportedly Being Foreclosed On Again!
According to Page Six on Wednesday, producers decided to remove Brandi from the show due to her "erratic" behavior after being involved in another lewd incident. Execs became concerned when the 50-year-old television personality addressed one of the producers by name in front of the cast and crew after the Caroline incident and allegedly asked:
"Do you want to f**k me tonight?"
Whoa, what?!!
Insiders claim Brandi and the producer are longtime friends, and the person wasn't bothered by her comment. In fact, they reportedly took it as a joke, and they didn't want to see her face consequences. But considering this matter came after she allegedly assaulted her 61-year-old co-star, staff members were understandably worried as they reviewed the tape and interviewed witnesses during an investigation into the Caroline incident.
During both events, Page Six reports that Brandi – who previously confessed to having an unhealthy relationship with alcohol in the past – was drinking and appeared drunk during that night. Insiders claimed she and Caroline had at least four tequila shots each and began making out earlier that evening. The Traitors star allegedly "stuck her tongue down" her throat, per sources close to Caroline. But insiders close to Brandi denied it, saying that Caroline told her after the incident:
"I've been kissed by women before, but I've never kissed back [until this evening]."
However, sources close to Caroline said she has no memory of that. Ultimately, despite the producer's reaction to the comment, Shed Media, the production company behind RHUGT, felt what happened was inappropriate – especially after the incident with Caroline. The next day, executives decided Brandi should leave the show, and they put her in a hotel away from the other cast members the following night.
Insiders said Caroline began to express her discomfort about the matter the next morning. That is when Brandi was on the next flight home before filming for the show finished. And then, Caroline also ended up leaving early.
What a terrible situation, Perezcious readers. Reactions to the latest details? Let us know in the comments below.
If you or someone you know has experienced sexual violence and would like to learn more about resources, consider checking out https://www.rainn.org/resources. 
[Image via Watch What Happens Live with Andy Cohen/YouTube, Jeff Lewis Live/YouTube]