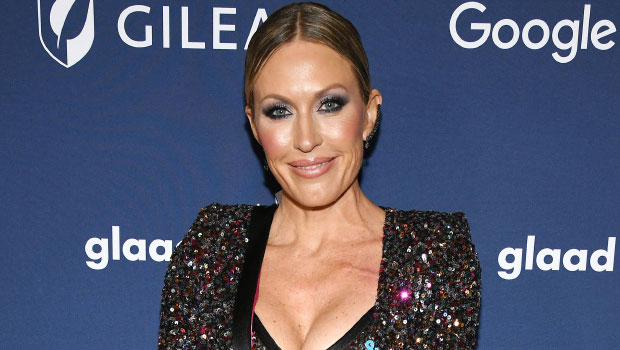 Braunwyn Windham-Burke, 45, may not appear on The Real Housewives of Orange County again, but she teased a potential big commitment in a new post on February 14! In a Valentine's Day post via Instagram, she shared a pic of herself with girlfriend Jennifer Spinner, lovingly kissing in front of the Graceland Wedding Chapel in Las Vegas, Nevada. She wore a brownish faux fur coat and white stiletto boots, while Jennifer wore a head-to-toe black ensemble with black cowboy boots.
"Crazy….in love. I adore you @hashtag_blehssed," she tagged Jennifer. "You're my love, my best friend, the reason I laugh. I'm the luckiest girl in the world. Here's to a lifetime of adventures." Braunwyn completed the romantic post with a series of hashtags, including #cheerstogoodchoices #happyvalentinesday #vegaswedding #elvis #ourway #loveislove, and #lgbtq. Despite the strong hints, she did not explicitly confirm a marriage, and earlier in the day, Braunwyn took to Instagram stories to share that the duo got matching tattoos. She also shared a pic of a veil headpiece and a bouquet of white roses via stories.
Many of the former Bravo personality's 320K followers took to the comments thread to congratulate the couple on the milestone. "Omg congratulations if you just both said yes," commented a fan, while another wrote, "Congratulations! Cheers to loving like no one is watching." "Ahhhh mazing!!! Congratulations #goals. HAPPY VALENTINES Love birds," gushed a third.
Others were already asking for wedding pics. "Pleeeez show us wedding pics!" begged a devoted fan, alongside a row of heart emojis. Braunwyn originally came out during an interview with with GLAAD [Gay & Lesbian Alliance Against Defamation] in December of 2020. "I like women. I'm gay," she said at the time. "I'm a member of the LGBTQ+ community."
She added that it had "taken me 42 years to say that but I am so proud of where I am right now. I'm so happy where I am. To be able to be comfortable in my own skin after so long is just so nice," she explained. "I'm just now starting to feel like I'm becoming the woman I'm supposed to be. I've always known it, but it took me, personally, 42 years to be comfortable in my own skin to say that."
Jennifer also took to Instagram with a post that seemed to confirm that an event had taken place between the two, posting the same photo at the wedding chapel. "If soulmates are a thing, she's definitely mine," she captioned her post. "Thank you for the best 7 months and for making me into a Valentine's Day believer. Here's to making reckless and 'cringe' decisions together for the rest of our lives."
She appeared on the Bravo hit from 2019-2021. She was married to Sean Burke for 23 years, with whom she shares seven children, before filing for divorce back in October of 2022, per Page Six. In January, she shared with PEOPLE that she and Jennifer rang in 2023 with a commitment ceremony — though at the time, with the divorce still in process, she said it was "not an engagement yet."
"We're madly in love and I have no doubt that's where we'll end up one day," she told the outlet for the January 3 report. "But right now we're just enjoying our time together and soaking up the love and the excitement of having found one another."
Click to Subscribe to Get Our Free HollywoodLife Daily Newsletter to get the hottest celeb news.