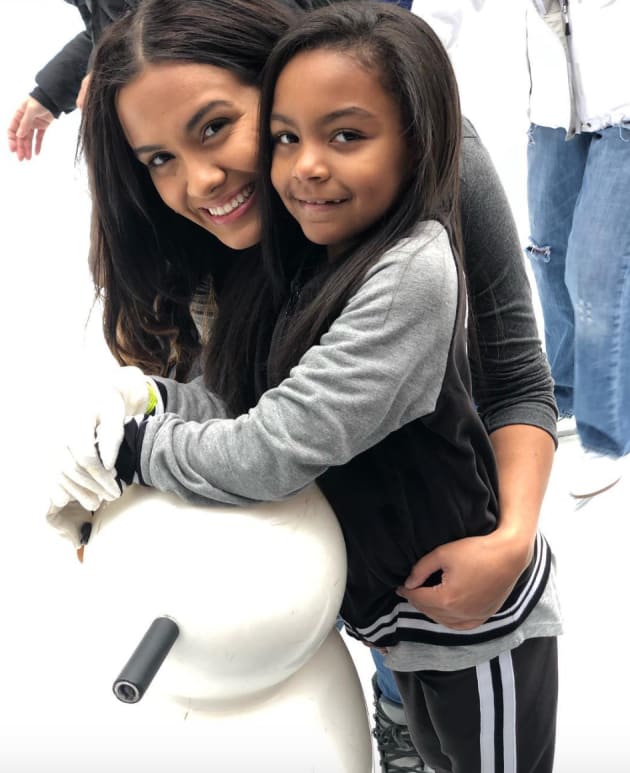 As you may have heard, Briana DeJesus and Devoin Austin, the father of her oldest daughter, do not get along.

It's been sort of a thing for the past several years.

They obviously liked each other at some point, enough to conceive a child at least, but whatever affection they had for each other is long gone.

And in its place is just a bunch of angry texts and passive aggressive social media posts.

Briana and Devoin have been doing this little song and dance quite a bit for the past few months — they get mad at each other, post about it on Instagram and/or Twitter, then the other person responds indirectly on Instagram and/or Twitter and nothing ever gets resolved.

It's stressful just watching it from the outside, we can't imagine how exhausting it must be to actually co-parent like this.

If you want to see a good example of what we're talking about here, wait till you see their latest social media battle …
1.
Shocker

Believe it or not, Briana is mad at Devoin. Yeah, again.
2.
A Strained Relationship

She gets mad at him pretty often, and sometimes she's completely justified, like when he got drunk while watching Nova alone at a pool or when he posted her phone number on Instagram.
3.
Hmm

But sometimes she does seem to make coparenting difficult just because.
4.
Good Question

Is that what's happening here? Let's see if we can figure it out!
5.
How It Started

OK, so their latest public feud began last night when Devoin apparently failed to pick Nova up from gymnastics practice — we know this because Briana shared some texts she sent to him.
6.
So Mad

"Your f-cking daughter walked in the house f-cking sad and upset," she told Devoin. "She thought she wasn't getting picked up!"
7.
A Big Problem

She said that she'd gotten a call from someone at the gym, and that he wasn't "just a little late," he was "a whole lot late," and that he "was probably getting high" and that's why he forgot to pick her up.
8.
Outraged

"I give u a little bit of responsibility and u let me down every single time," she told him. "F-ck uuuuuuuu f-ck everything about uuuuuuuuu … I always gotta deal with ur slack."
9.
Oh No

She said that poor Nova was crying about it and that she didn't even know what to tell her, but then she told Devoin that he's just "showing her ur true colors," and that Nova was starting to see that for herself.
10.
There's More!

Briana said that she wouldn't ask him to do anything like that again, and finished off the long text with one more "f-ck u."
11.
Devoin Responds

All of that must have been a lot to take in, but Devoin decided to respond by letting her know that Nova had told him that she wanted to stay with him this weekend, and that "You can't be mad for her all the time Briana."
12.
No Responsibility

When she told him that he couldn't take responsibility for her mistakes, he didn't argue, but he did say "Don't say she hates me or anything. If you don't want me to get that's fine, you been expressed that."
13.
Well

She threw in yet another "F-ck u," then claimed that she'd asked Nova about the sleepover and she told her that she'd only said that because "I don't wanna hurt my dad's feelings."
14.
Ouch

"She's nine Devoin," she told him. "She shouldn't have to be worried about ur feelings or thinking that way. Do better bro. U stay f-cking up and wonder why I am the way I am with you."
15.
Proof

She then posted a screenshot of the text of the voicemail from Nova's gym, just in case anyone thought she was lying about all of this.
16.
A Rebuttal

Soon after that, Devoin shared his side on his Instagram story in a post directed to Briana. He began his post by writing "If I make a mistake I admit. Do not sit here and act like I endangered my child when you asked me LAST SECOND to pick her up."
17.
Interesting

We know he had been picking up Nova every day after practice, but it sounds like he's saying that Briana is picking her up now that Teen Mom 2 is filming and she's taking a break from her day job, and she asked him randomly to step in and pick her up one day and he wasn't prepared.
18.
Fair?

He said that she's just trying to twist all of this into a bigger deal than it actually was so that she can create drama for the show, which is something he's accused her of doing in the past.
19.
Not Having It

He insisted that Nova had asked him to pick her up early for their sleepover, and he told Briana "You cannot express your hate for me thru my child."
20.
Clearing Things Up

"Now let me just say something," he continued. "Yes I JUST made a real mistake. But now ya putting anger/hate on me (which is deserved rn) but it's also the hate ya have for me from a long 10 year HIGHLY INACCURATE journey. Y'all don't MF know me for sh-t."
21.
False Portrayal?

He said that MTV never shows anything good that he does for Nova, but they focus on any mistakes he makes, and that it's always Briana trashing him, never Nova herself.
22.
Standing Up for Himself

He acknowledged that he doesn't have to explain himself to anyone, but that he's portrayed so badly that he feels like he does.
23.
All Done

He finished by asking his followers to "Please don't make this about nothing more than the fact that I f-cked up. Not a side choosing thing."
24.
That's It

He said that Briana wasn't wrong for sharing the texts between them because he did do what she was complaining about, but that he didn't want to make this whole thing into another Teen Mom storyline.
25.
There You Have It

And that's the recap on the latest chapter of the feud between Briana and Devoin.
26.
So Many Questions

Who's in the right? Who's in the wrong? How long until they do this whole entire mess all over again because both of them are incapable of learning anything from any of this?