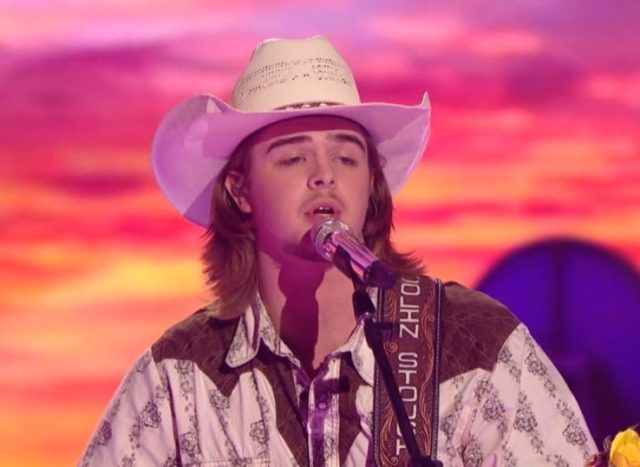 Colin Stough secured his spot in the Top 8 of the latest American Idol season on Sunday night.
As the last contestant to take the stage, the Mississippi native blew judges and viewers away with his version of "It's Been Awhile" by Staind.
The 18-year old may very well go on to win this year's title.
However, due to what some social media users have now discovered, a number of critics out there think Colin Stough is nothing but a loser.
Over this past weekend, astute observers uncovered ol dFacebook and Instagram posts that paint Colin in a rather negative light.
In June 2021, for example, Stough shared a meme that compared an African American man wearing sagging pants with a Confederate War Memorial statue that was erected in 1906 in Covington, Georgia.
"How does a statue being in the same place for 100 years suddenly become offensive and men walking around in public with there [sic] a** showing not offensive?" Colin asked in the caption.
"Are people really this ignorant?"
In December 2020, meanwhile, the aspiring country crooner was tagged in a post from D.T.D (Deer Turkey & Ducks) Outdoors & Monroe County Whitetails Unlimited, which is a nonprofit that supports the hunting and shooting of wild animals.
"Congratulations!!! Colin Stough for getting a little predator control done and meat in the freezer," read the post, which the singer shared on his own profile.
In the snapshot, Colin was featured with a large wild cat he had tracked down and murdered.
Finally, a third controversial post uploaded by Stough was from July 2020.
The American Idol finalist posted a story titled "Donald Trump says flying the Confederate flag is 'freedom of speech,'" and it prompted many to think he was speaking out in favor of this symbol.
Just about a year ago, a previous American Idol finalist actually left the show amid his own race-based scandal.
In May 2022, a TikTok video surfaced of Caleb Kennedy sitting near someone in a Ku Klux Klan hood.
The contestant was only 12 years old when this footage was filmed.
"Hey y'all, this is gonna be a bit of a surprise, but I am no longer gonna be on American Idol," Kennedy said after he was forced out of the competition.
Kennedy added last spring:
"I was younger and did not think about the actions, but that's not an excuse. I wanna say sorry to all my fans and everyone who I have let down."
Concluded Kennedy:
"I'll be taking a little time off social media to better myself. But saying that, I know this has hurt and disappointed a lot of people and made people lose respect for me."
"I'm so sorry!"
For his part, Stough has not commented on this scandal… but he has taken down the controversial posts in question.
f