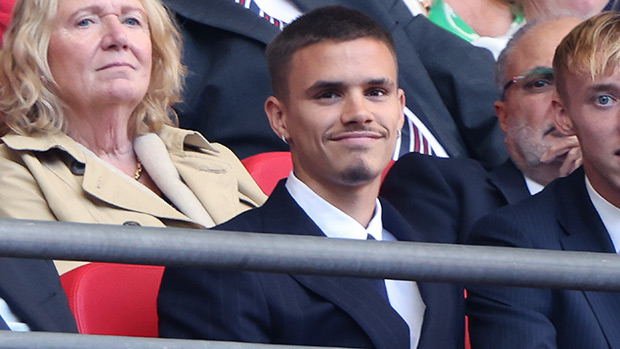 David Beckham, 48, all but defined the buzzcut and shaved brow look. And in a new pic, his 20-year-old son, Romeo, resurrected it to dramatic effect. In the selfie, shared to Instagram Stories on Thursday, August 10, Romeo paid tribute to his dad's 2001 look with the iconic buzzcut, a straight line cutting through the left side of his head. He also brought back the subtle but stylish shaved brow, with two lines running through the brow. Romeo showed off the look with the straight-on selfie as he sat on a beige couch rocking a white t shirt and colorful necklace. "@Peteburkill helping me bring back dads buzzzz," Romeo captioned the pic, along with a starry-eyed emoji.
The soccer great reshared the photo to his own account, writing over the photo, "Looking good @romeobeckham" along with a laughing emoji. David and his fashion designer wife Victoria Beckham welcomed Romeo, their second child, on September 1, 2002, meaning he's on the cusp of his milestone 21st birthday! He shares his famous parents with siblings Brooklyn, Cruz, and Harper. The 20-year-old also shared the look in an August 9 IG post as he rocked black shorts, pink sneakers, and a pair of sunglasses.
And as it happens, Romeo isn't the first child of Victoria and David's to try out the look — Brooklyn has also sported shaved brows, known as "eyebrow slits." Romeo has shared his dad's past looks before, including those infamous cornrows. Fans had mixed reactions in the comments thread of the IG post. "Great Haircut Romeo, cool style" wrote a follower, while another remarked, "Looking good Romeo," along with a row of bumblebee emojis. "Where's ur hair?" lamented a third.
The look is quite distinctive, and obviously worth bringing back. David once shared that he never goes halfway with a new look. "If I have long hair, I have no problem with shaving it all off," he said in a past interview. "It's just something where actually I could wake up in the morning and think, 'You know what? I'm bored of this hair,' and just shave it all off. There's no in-between for me. I always think, at the time, that things are great and that they look good. Twenty years on, when I look back at certain things—maybe the cornrows—I was pushing it a little bit. But at the time, it felt right."
Click to Subscribe to Get Our Free HollywoodLife Daily Newsletter to get the hottest celeb news.