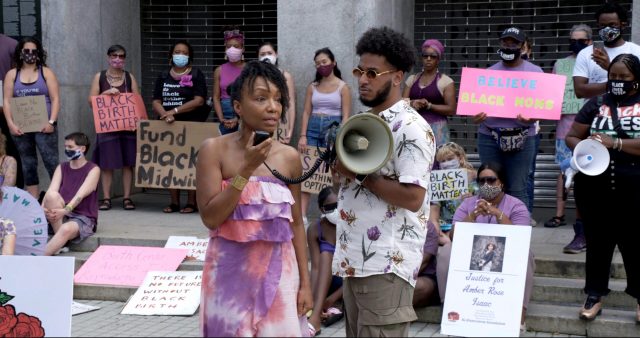 DOC NYC has announced its 2022 main slate. Set to take place in-person November 9-17 and continuing online through November 27, this year's edition of America's largest doc fest includes 110 feature-length documentaries. As previously announced, Stephanie Johnes' "Maya and the Wave," a portrait of Brazilian surfer Maya Gabeira is opening the festival.
The Winners Circle section, a collection of major awards winners, includes Paula Eiselt and Tonya Lewis Lee's "Aftershock," a look inside the U.S. maternal health crisis and the role that racism plays in it, and Tamana Ayazi and Marcel Mettelsiefen's "In Her Hands," a tribute to one of Afghanistan's youngest female mayors.
Women-directed and co-directed titles account for three of eleven films in U.S. Competition, or 27 percent of the slate. Among the films set to screen is Christine Yoo's "26.2 to Life," a look inside a distance running club in the San Quentin State Prison. Nine of 12 of films in the International Competition are helmed or co-helmed by women, or 75 percent of the lineup. The program includes Karen Cho's "Big Fight in Little China Town," an exploration of how Chinatowns in New York, Montreal, and Vancouver are resisting harmful city redevelopment plans.
Check out the complete lineup for DOC NYC on the fest's website. All of the women-directed and co-directed films screening in U.S. Competition and International Competition can be found below.
---
U.S. Competition
26.2 TO LIFE (World Premiere)
Director: Christine Yoo
Producers: Hella Winston, Carolyn Mao, Sara Sluke
Three incarcerated men find purpose through running the world's most unique marathon: 105 laps around the yard of San Quentin State Prison.
1946: THE MISTRANSLATION THAT SHIFTED A CULTURE (World Premiere)
Director: Sharon "Rocky" Roggio
Producers: Sharon "Rocky" Roggio, Jena Serbu
Seeking the origins of homophobia in the Christian church, two LGBTQIA+ activists make a ground-breaking discovery: an erroneous translation of the word "homosexual" in the Bible.
DEAR THIRTEEN (World Premiere)
Director: Alexis Neophytides
Producers: Alexis Neophytides, Trina Rodriguez, Alex Murawski
In their own words, this tender, illuminating look into the lives of nine 13-year-olds from around the world reveals who they really are.
International Competition
AFRICAN MOOT (US Premiere)
Director: Shameela Seedat
Producers: Shameela Seedat, Francois Verster, Don Edkins, Tiny Mungwe, Juha Lopponen, Venla Hellstedt
The best and brightest young law students from across the African continent come together to show off their legal knowledge and oratory skills in the annual African Human Rights Moot Court Competition.
BIG FIGHT IN LITTLE CHINATOWN (World Premiere)
Director: Karen Cho
Producer: Bob Moore
After the pandemic and harmful city redevelopment plans, Chinatowns in New York, Montreal and Vancouver resist by innovating new ways to keep their culture and communities thriving.
CHILDREN OF LAS BRISAS (North American Premiere)
Director: Marianela Maldonado
Producers: Luisa De La Ville, Luc Martin-Gousset, Andy Glynne
Three children in a Venezuela in economic collapse channel their pain and joy into classical music as part of a unique government-sponsored program, El Sistema.
CLOSED CIRCUIT (International Premiere)
Director: Tal Inbar
Producers: Tal Becher, Yoav Zeevi, Omri Uzrad, Nancy Spielberg
Through the sharing of memories, Arab and Jewish survivors of a 2016 Tel Aviv terrorist attack confront unthinkable trauma.
FATI'S CHOICE (North American Premiere)
Director: Fatimah Dadzie
Producers: Hamid Yakub, Tiny Mungwe
​​After surviving a perilous migration to Europe, a Ghanaian mother returns to her village to reunite with her children, meeting disdain from her family and neighbors.
GIRL GANG (US Premiere)
Director: Susanne Regina Meures
Producers: Christian Frei
German teen Leonie and her parents seize the economic opportunities of social media fame, but at what cost?
THE HAMLET SYNDROME (North American Premiere)
Directors: Elwira Niewiera, Piotr Rosolowski
Producers: Magdalena Kaminksa, Agata Szymanska
A group of young eastern Ukrainian actors create a unique stage production of Hamlet, through which they process their own personal experiences of the war with Russia.
THE HERMIT OF TREIG (US Premiere)
Director: Lizzie MackEnzie
Producer: Naomi Spiro
A spirited elderly hermit and a young filmmaker forge a 10-year friendship, as the hermit navigates his declining health and questions his ability to continue living in the wilderness.
HOW TO SAVE A DEAD FRIEND (US Premiere)
Director: Marusya Syroechkovskaya
Producers: Ksenia Gapchenko, Mario Adamson
A grunge love story between a suicidal 16-year-old Russian girl and a fellow lost soul, filmed over 12 years under the shadow of Putin's regime.