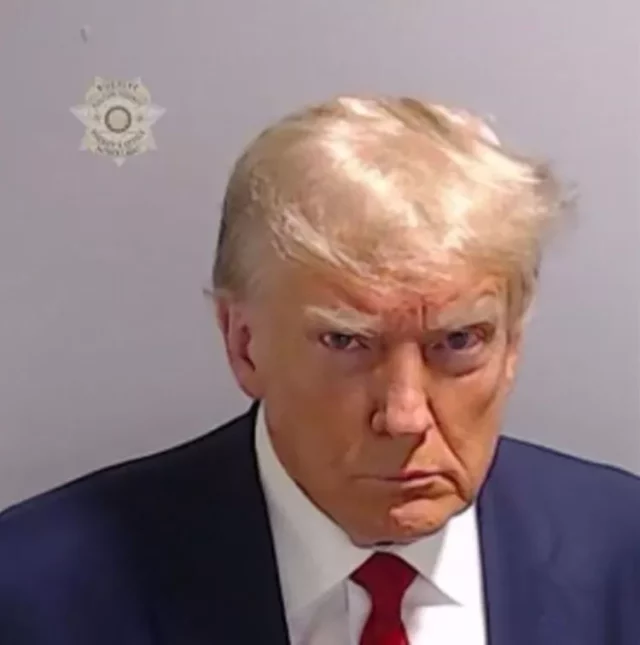 Donald Trump has made history, folks.
Again.
On Thursday evening, the Republican front-runner for the 2024 Presidential nomination became the only sitting or former United States commander-in-chief to have his mug shot taken.
Feast your eyes on this iconic booking photo below:
It was released by the Fulton County Sheriff's Office on Thursday night, shortly after Trump surrendered at an Atlanta jail to face charges stemming from his fourth indictment this year.
That's, like, four more indictments than any ex-President has faced in the history of this great nation.
Trump, now free on $200,000 bond, was indicted this month for his efforts to overturn the state's 2020 presidential election results.
In March, Trump was also indicted for hush money payments he made to an adult film actress with whom he had an affair years ago.
In June, Trump was also indicted for possibly violating the Espionage Act due to classified documents he took out of the White House and stored in his Florida mansion.
In August, Trump was also indicted on four criminal counts by a federal grand jury investigating the January 6, 2021, Capitol riot, along with other efforts to overturn the 2020 presidential election.
This latest legal instance finds Trump charged with 13 felony counts … one of which — violating the Georgia RICO Act — is classified as a "serious felony," thereby carrying a mandatory minimum sentence of five years if convicted.
The entire booking process took fewer than 20 minutes on Thursday.
According to information provided by Trump's team for the official record, the failed businessman and serial cheater stands 6'3″ and is currently tipping the scales at 215 pounds.
These numbers sound about as accurate as Trump's claim that Mexico would pay for the border wall he failed to erect during his four years in the White House.
The 98-page indictment out of Fulton County this month, meanwhile, describes an alleged multi-layered plot to overturn the results of Georgia's 2020 presidential election and keep Joe Biden from earning the state's 16 Electoral College votes.
Alleged conspirators in the plot included Trump himself, former New York City Mayor Rudy Giuliani, former White House chief of staff Mark Meadows, former and current Republican officials, along with numerous attorneys.
In addition to the 19 defendants charged with attempting to change the outcome of the election, the indictment references 30 additional co-conspirators who are not facing charges.
Did we mention that Donald Trump is almost definitely going to represent the Republican Party next year as its nominee for President?
It's only a question at this point whether he'll be doing so from inside a jail cell.