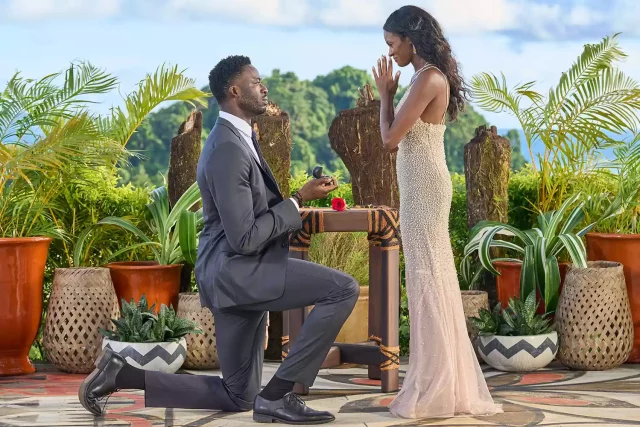 Charity Lawson fell in love on The Bachelor Season 20 finale.
Twice.
Alas, despite her VERY strong feelings for Joey Graziadei, Lawson was forced to interrupt his proposal by stating the following:
"I found love that's deeper with someone else.
"And it won't make sense in this moment and it's hard. It's hard to get these words out because the truth is, Joey, that I am in love with you."
Thankfully for Graziadei, he's got a pretty strong backup plan.
And thankfully for Lawson, she went ahead and found a love even stronger than the one she believed she had with Joey.
Isn't that right, Dotun Olubeko?!?
He began his final moments with Charity on the show by recounting their journey together.
"You have been able to make me feel so incredibly special," he said to Lawson.
"You have made me feel adored and validated and wanted. And to receive that from a woman of your caliber, Charity, I don't think you understand what that means to me.
"But I'm certain that I want to spend the rest of my life showing you."
Right before dropping down to one knee, Dotun added:
"The love that we have is perfect. And so, Ms. Charity Lawson, would you do me the honor of turning the fairytale into a reality?
"Ms. Charity Lawson, will you marry me?"
Lawson, of course, accepted the proposal and kissed her fiance, handing him her final rose.
It was a very romantic conclusion, but we've seen MANY romantic conclusions on The Bachelor and The Bachelorette before, haven't we?
And we haven't seen many of these couples end up as husband and wife, have we?
Will Charity and Dotun be any different?
"There's no words and I've told this to her — love is not enough of a word to describe how I feel about her," Dotun absolutely gushed on ABC's After the Final Rose special.
"She's everything to me. She [has] only become more of everything since filming ended," Dotun gushed. "I've never been more certain about anything in my life.
"I want to keep rocking and keep moving."
When it comes to wedding plans, meanwhile, Charity talked a very strong game on this same special.
"It will be sooner rather than later," she said alongside the alleged love of her life.
"We don't have a set date or anything. … We're just enjoying the season of life."
For the record, Reality Steve (the man more locked in to this franchise than any reporter out there) has said that Lawson and Olubeko are still together, even all these months since their season finished filming.
Does this mean they'll defy the odds and exchange vows at some point?
We'll all need to stay tuned to find out!
a