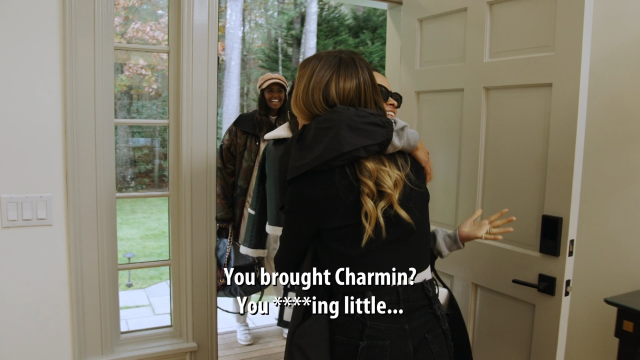 After last week's RHONY 14 premiere, this series feels alive again.
So many fresh faces that somehow manage to balance opulence and humanity in a way that appeals to viewers. Casting really nailed it this season.
And so did their first group trip.
The ladies went to the Hamptons, where reality TV magic happens. They're still getting a feel for each other as we're all figuring them out. This season is such a treat.
On The Real Housewives of New York City Season 14, Episode 2, it's Hamptons time!
This was genuinely a brilliant move. It brings back the important role that location and geography play on this show.
And where the cast of Season 13 had devolved into some deeply bitter bickering, these fresh faces remain a perfect blend of accessible and intimidating.
While Ubah, Jessel, and Sai ride, they discuss several topics.
Ubah reveals that she does not like cheese. She, not Sai, may be the grain of truth behind cheesegate.
Meanwhile, Sai shares that she was not joking about bringing her own roll of toilet paper. She grew up on single-ply, and has understandably sworn it off.
But Brynn is not with them. And not because she's driving ahead (like Jenna).
She's not feeling up to it. The plan is to receive a steroid shot and see if it helps.
Brynn tells them that she'll either miss it entirely or just be very late. Sometimes, that's life.
Their host on this Hamptons trip is Erin. She is not a first-generation Hamptons-visitor (generational wealth is a hell of thing), so she has renovated a house to her liking.
It now boasts five bedrooms and seven bathrooms and a finished basement. It looks very nice, albeit largely devoid of color.
So Erin is in an ideal position to host this getaway. But she is clearly anxious, especially after previous conflicts.
Erin's caviar caterers arrive and begin preparing some lovely hors d'oeuvres. You don't have to be a fan of caviar to enjoy the spread.
The use of Pringles is … creative? It's probably delicious and compliments the saltiness of the caviar, but I've never tried it. (I'd probably go with Stax instead, if I'm being honest)
But does everyone like caviar? No. Ubah, who doesn't eat cheese, also doesn't like caviar. Look, everybody has their sense of taste. She stops by a fancy grocery store to buy a sandwich, which clearly isn't what Erin wanted to hear.
An admittedly nervous Jenna arrived to see her friend. The two chatted about Erin's anxieties.
Jenna had her own, from fears about awkwardness to worries about offending her castmates if she needs alone time.
She's simply not sure what to do on a girls trip. Her experiences with sleepovers have been less than platonic.
Still en route, the trio who rode together discussed intimacy.
Though jessel Taank has had sex in some forms with her husband, she has not had sex since she gave birth. And we're not talking about a newborn, here.
Ubah suggested that Jessel might wear lingerie that conceals her C-section scar, since it has her feeling self-conscious. That is a fantastic piece of advice.
Obviously, Erin gave Sai a hard time for bringing her own toilet paper.
(Let's be real — if Sai didn't want a comment on it, she would have packed it away)
The ladies toured and appraised Erin's gorgeous home.
Even though Jessel also admired the home, she couldn't help but notice that Jenna's room was nicer than her own.
That makes sense. Erin and Jenna are closer than some of the other ladies.
Anyway, they eventually made their way to the restaurant that Erin had selected.
Jenna opened up about realizing that she was gay. She'd barely even known about gay women.
At 40, she had a fantastic job and a precious child. And, believe it or not, asking a "but how does it work for women" question of a friend led her to realize that she felt truly turned on in a way that she never had before.
That sort of awakening is more common than people think. Especially for older generations. (We're not being mean! Jenna knows that she's older!)
And Jenna shared her experience of the NY Post outing her back in 2012. They didn't really have anything on her … but she opted to confirm it anyway.
She is dating now. But she's not going to bring this relationship onto the show. Given her history with the press, that is very understandable.
The lingerie bit at the end was cute. Jessel came across as rude, but she seemed to be more doubting her own sex appeal than intending to offend the gift-giver. But intentions only matter up to a point.