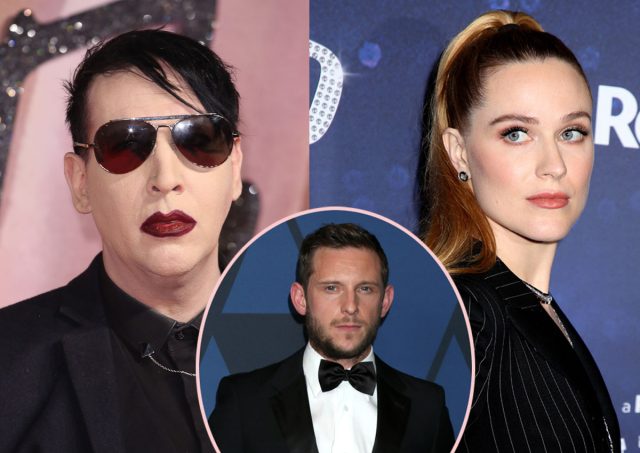 Evan Rachel Wood and Jamie Bell split in 2014 and have since been caught in a lengthy custody dispute over their now 9-year-old son, Jack Matfin Bell. Back in 2022, Jamie said they had shared "equal custody" of their son for seven years before, as he claimed, Evan started keeping Jack from him. The 35-year-old Thirteen alum denied these claims. However, she was trying her hardest to keep her son with her at her home in Nashville, Tennessee. But things have changed.
And it's apparently all the fault of her more infamous ex: Marilyn Manson.
Related: Marilyn Manson Sued AGAIN For Allegedly Harassing A Minor
On Thursday, The Blast reported Evan had finally given up the fight of keeping her son at home and instead relinquished "primary custody" to her ex-husband, who lives in Los Angeles. In the filing obtained by the outlet, it says:
"[Jack will] primarily live with [Jamie] in Los Angeles, [Wood] shall have custody of Jack one [1] extended weekend per month from Friday, after school or 10:00 a.m."
Evan will now just have her son at home only one weekend a month, plus for school holidays like spring break — a big change for sure! The reason this change allegedly came about is just awful…
Sources dished to the outlet that Evan is now "extremely afraid of putting her son in danger" due to threats Manson, whose real name is Brian Hugh Warner, made against the boy. If you'll recall, in December of 2021 while testifying against the 54-year-old rocker, the Westworld actress claimed that he told her he would "f**k" her son as a way to "ruin [her] life." At the time, she said:
"I took [Manson's] threat seriously, then and now. I am looking into attack dogs and security guards at night."
Just disgusting. Of course, though, he has denied these claims, as well as all of her other allegations of abuse… And the allegations from other women, too…
Evan mentioned her fear for Jack's safety in her 2021 testimony, specifically noting some of the worst accusations against Manson:
"I only recently learned that [Manson] was involved in human trafficking and the sexual exploitation of minors on a large scale. These new developments, combined with the pending criminal investigation, lead me to be very concerned about our child's safety when in Los Angeles."
In custody court this month, the Phoenix Rising documentary subject went into detail about how all of this makes her feel:
"I am a key witness in a pending criminal investigation. In connection with the investigation, I allege that I was the victim of torture, rape, and pedophilic grooming by an intentionally known public figure. I am extremely afraid of the alleged offender. I have suffered a severe, traumatic physical and emotional injury at his hands, and I am afraid that he will seek retribution against me for testifying by harming me, our son, and members of our family."
Evan also claimed investigators told her directly that her family was in danger. So, so sad.
We're sure Jamie is happy to see his son more. However, he does NOT agree with his ex-wife's reasoning and wrote in his own filing:
"Whatever fears Evan may have regarding third parties should have nothing to do with me or custody of our son. I do not even want to think of the short- and long-term psychological harm Evan might be inflicting upon Jack with this kind of talk and my prolonged separation from him."
The actress filed back, and wrote she never kept her son away from his father, but she does have "real and deep concerns" if they reside in LA. It sounds like Dad doesn't share those concerns at all…
Such a scary situation. We truly hope this works out in the best interest for both Evan and Jack. Thoughts?
[Image via Lia Toby/Nicky Nelson/MEGA/WENN.com]