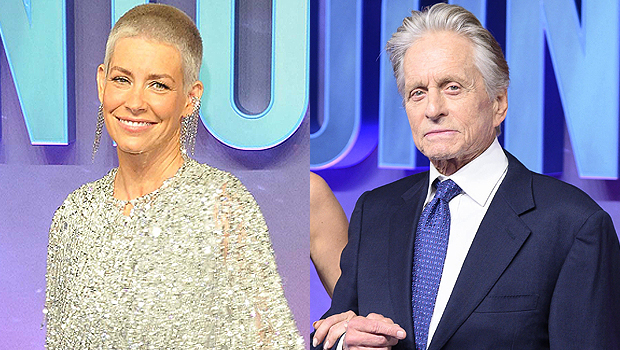 If there's one thing Marvel star Evangeline Lilly, 43, isn't – it's shy! The blonde beauty recently dished about the time she told legendary actor Michael Douglas, 78, that she wanted to sleep with him. "I turned to Michael and Michelle [Pfeiffer], and I said, 'You know, you guys are real GILFs.' Michael had no idea. He said, 'What's a GILF?' Instead of being cool about it, in front of a room full of children I went, 'It's a grandpa I'd like to f***.'", she said during an upcoming episode of the Jonathan Ross Show, via The Daily Mail. "And then immediately realized I'd told Michael Douglas I'd like to f*** him, which is not what you should say in front of a bunch of kids, oops!"
Despite admitting she wanted to have sex with Catherine Zeta-Jones' hubby, Evangeline clarified how much she respects both of the actors. "I got to be in a scene with the three of them on my 42nd birthday. They're so cool. You don't want to meet your icons because you're afraid they're going to disappoint and the three of them are cooler than you think they are. They're amazing," the 43-year-old shared. Evangeline got to work with Michael and Michelle on the set of latest Marvel movie, Ant-Man and the Wasp: Quantumania, starring Paul Rudd, 53.
The Lost alum's latest film premiered on Feb. 17, and amid doing press tours for the movie, Evangeline admitted she turned down Hugh Jackman's offer for a role in the X-Men franchise. "Hugh Jackman was like, 'Hey, so, the X-Men guys are asking me if I would approach you because they know that you won't talk to anybody," she jokingly said during an interview on Josh Horowitz's Happy Sad Confused podcast on Feb. 16. "They knew I was working with you and were interested to know if it would ever interest you to do an X-Men thing." In response, Evangeline admitted, "I was like, 'No. It doesn't interest me. I'm not interested.'"
Not only did she decline a role in the iconic X-Men franchise, but she also shared that she rejected Joss Whedon's Wonder Woman offer. "It didn't appeal and there was nothing about the meeting that like, jazzed me or made me think like, 'Oh, I've gotta do this.' Nothing clicked. Nothing felt good," the mom-of-two said. "I am way too authentic for my own good. I mean, it's not good. If I am not impressed, you'll know. And maybe you shouldn't know sometimes."
The actress, who plays Hope van Dyne in Ant-Man and the Wasp, also noted that she was not "super into" super hero films. "I just always had to do what felt right for me," Evangeline further explained. "And honestly I wasn't into superhero movies and that's the main reason why, in both of these instances, I just kind of felt like I don't know what I get out of this." More recently, the starlet took to Instagram to re-post a video of her press tour in which she admitted she didn't know who popstar Harry Styles, 29, was. "Oops, sorry @harrystyles," she captioned the clip on Feb. 23.
"I have to say, at the end of Eternals, when that guy [Harry] walked into the ship in the end credits," she began. "Well, for me, it was 'that guy,' and I was like, 'Who is that kid because he's gonna be really successful. He's got some serious mojo." She continued, "Swear to god. I was like, 'He's gonna be a big star.' That's what I thought to myself." Ant-Man and the Wasp: Quantumania is now playing in theaters nation-wide.
Click to Subscribe to Get Our Free HollywoodLife Daily Newsletter to get the hottest celeb news.