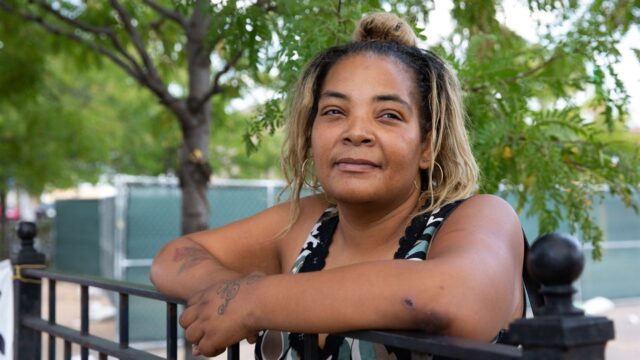 "When half the mental health clinics in Chicago closed, the jail population exploded," director Margaret Byrne informs us in an exclusive trailer for "Any Given Day," her documentary which is set to make its world premiere at Hot Docs. The filmmaker followed three diagnosed detainees taking part in a specialized probation program — Angela, Daniel, and Dimitar — while dealing with her own mental health struggles.
"Any Given Day" sees each character discussing their mental health journey while navigating the criminal justice system. One man reveals he didn't receive his schizophrenia diagnosis until after he was arrested, although he has heard voices since he was a child. Another talks about losing custody of her children. "Entering the mental health court, you have to plead guilty," one subject says. "How can I be mentally ill and at the same time be a criminal?"
The doc's subjects and its director seem to agree that mental illness has its peaks and valleys — generally, it's not something that goes away for good. "I've struggled with mental illness for most of my life. There's good periods, and then it comes back," Byrne explains. "It's kinda like you're in a maze, and you know you're not gonna get out of it," a character describes. "But you're still walking through it, like everything's A-OK."
Asked what she'd like audiences to think about after watching the film, Byrne told us, "I want people to feel encouraged to talk about their mental health more openly and I want people to question the systems we have in place to treat people with mental illness."
Byrne previously directed feature doc "Raising Bertie." She is currently working on "Fighting Time," a series centering former homicide detectives and prisoners of color who claim they were framed for murder. Her cinematography credits include "Surge," "Waging Change," "All the Queen's Horses," and "American Promise." Byrne founded the all-women Chicago film collective Beti Films.
"Any Given Day" will begin screening at the 2021 Hot Docs Canadian International Documentary Film Festival tomorrow, April 29. The fest is digital this year due to COVID-19, and will run through May 9. Streaming is geo-blocked to Canada.