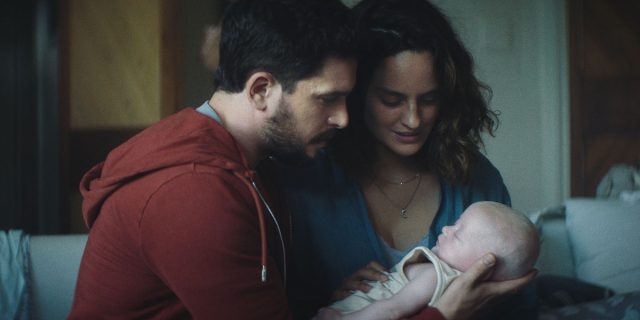 Noémie Merlant finds herself in another living nightmare in "Baby Ruby." After escaping the clutches of an egomaniacal boss in 'Tár," the French actress plays a new mother who begins to question her reality in "Baby Ruby." Our exclusive clip of Bess Wohl's feature debut sees Jo (Merlant) trying to bond with other mothers.
A lifestyle entrepreneur known for her viral soufflé, Jo is used to making things look effortless. But she's struggling with motherhood. She knows babies cry but Ruby never seems to stop. "How do you do it?" she asks the other moms. "You guys look so happy and relaxed and rested — and your babies are so quiet. They don't even cry." A desperate Jo pleads, "What's your secret?"
"Much of my work emerges from a tiny personal spark that I can then push to extremes. Becoming a parent was a deeply transformative experience for me – as it is for many," Wohl told us ahead of the film's premiere at the Toronto International Film Festival. "I quickly realized that I hadn't seen a lot of movies that really portrayed the complexities of this transformation, even the parts that are dangerous, taboo, and scary to talk about. I wanted to find a way to say the things that are rarely said, and to make space for both beauty and terror. It's still sadly rare to see a story about a female character that portrays her in her full humanity," she emphasized. I hope that someday treating women as full human beings won't feel like such a radical act."
"Baby Ruby" hits select theaters and VOD tomorrow, February 3.