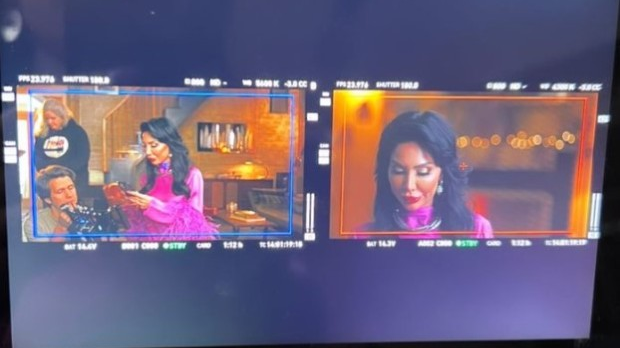 Hell world. Hell world. Doom is upon us all.
Farrah Abraham enjoyed a lengthy and lucrative reality TV career that began on 16 And Pregnant.
In recent years, her atrocious behavior has coincided with a major decline in on-screen appearances.
It is with very heavy hearts that we must now report that this may be about to change.
After years of terror, Farrah Abraham's time on Teen Mom came to an end — mostly — more than half a decade ago.
Ostensibly, a keystone of her MTV firing was Farrah's online sex work constituting some sort of breach of contract. That sounds … selective. The truth seems to have had more to do with her treatment of producers, especially behind the scenes.
Since that time, she has grown more erratic on social media, faced multiple arrests, and become increasingly orange. Has any of that made her an easier castmate to have, or any kinder to producers? Hmmm …
Farrah took to her Instagram Story this week, sharing a look through the director's monitor. A look at video of Farrah herself.
We do not know what the project might be. But either this is a very elaborate fake (always possible, albeit unlikely), or this is a filming set.
Clearly, a crew member is holding this in place for her while Farrah snapped the pic … of herself, on the monitors.
Additionally, Farrah shared a look at herself in a makeup chair, getting hair and makeup work.
She added a "BTS" tag — or it was there already. Notably, she's not talking about a Kpop group, but referring to this being a behind-the-scenes glimpse.
Again, we do not know the project. Except that it was clearly in New York, as that's where she spent time that day.
Here's the thing: we have no idea what nightmare Farrah is gearing up to unleash upon us all.
It is possible that she participated in some sort of interview. Plenty of people visit sets simply to give interviews.
But there are many types of interviews. One would be tuning in to a talk show for one episode. Others are … grim alternatives.
Simply put, Farrah appears to be suggesting that she is making an actual return to reality TV.
Even if she is only appearing on one season of a show, like as a one-off contestant or as a guest star, that's a big deal.
It's a big deal for her, because it's part of her career. And it's a big deal for viewers, because she is the stuff of nightmares.
We have actually been sort of "soft" on Farrah in recent reporting. It's not because we had a change of heart, but it's because Farrah's latest antics have (mostly) been positive.
Farrah very correctly defended Sophia's recent makeover. She is allowing her 14-year-old daughter to express herself in ways that do not harm anyone (including her).
She's absolutely right to recognize Sophia's autonomy (within a safe, age-appropriate context). Hair dye and piercings are normal styles of human expression, and have been for millennia.
That does not mean that Farrah is a good person. She isn't. It doesn't necessarily mean that Farrah is a good parent. The evidence doesn't support that, either.
It just means that, when it comes to this specific topic, Farrah is totally hitting it out of the park.
We sadly suspect that whatever project she's working on now will not show Farrah in such a positive light.