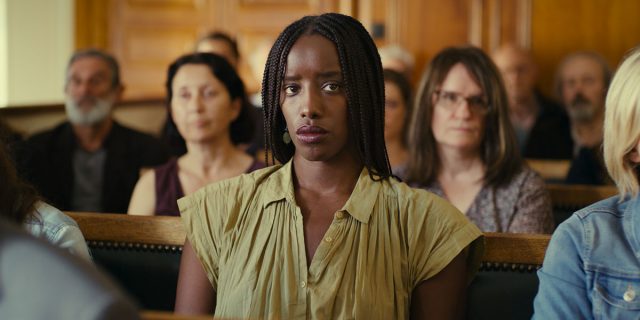 Alice Diop's first narrative feature is eyeing an Oscar nomination. Deadline reports that France has submitted "Saint Omer," this year's winner of Venice Film Festival's Silver Lion Grand Jury prize and Luigi De Laurentis First Film Award, as its entry in the best international film category at the 2023 Academy Awards. The drama just made its North American premiere at the Toronto International Film Festival.
Penned by Diop, Amrita David, and Marie NDiaye, "Saint Omer" is loosely based on real events and tells the story of a novelist (Kayije Kagame) who attends the trial of a Senegalese woman (Guslagie Malanga) accused of infanticide.
Notably, four titles on France's shortlist for the honor were directed or co-directed by women. Joining "Saint Omer" were Alice Winocour's "Paris Memories," Mia Hansen-Løve's "One Fine Morning," and Lise Asoka and Roman Gueret's "The Worst Ones."
Other titles in the running for the International Oscar include Marie Kreutzer's "Corsage" and Carla Simon's "Alcarràs." The former is representing Austria and the latter Spain.
Oscar nominations will be announced February 8 and the ceremony is slated to take place March 27.
Besides "Saint Omer," Diop is best known for "We" ("Nous"), a 2021 documentary shining a light on people and communities connected by the RER B commuter train in Paris.
"Saint Omer" will make its U.S. premiere at NYFF October 3.