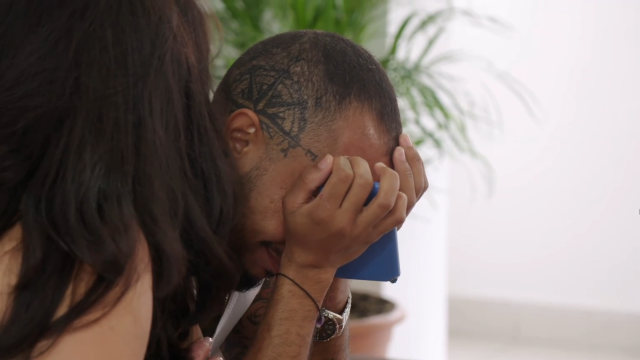 Gabriel Paboga and Isabel Posada were among the few couples who didn't break up on 90 Day Fiance: The Other Way this past weekend.
Instead, Episode 14 showed us the day of their wedding. They were both feeling very, very nervous.
What didn't help matters was that Gabe's sister, Monica, wasn't coming.
Just hours before the wedding, she backed out … sending her brother into a tearful panic. Why?
Gabe and Isabel's portion of the penultimate episode of Season 4 before the Tell All showed them gearing up for the nuptials. Or, you know, trying to.
With the support of his mom, Gabriel himself was trying to groom himself before stepping out as, well, the groom.
Then he received a text message from his sister, Monica. She was not there with him … and did not plan to be.
Okay, so WTF happened? Monica has been a hardcore advocate for her big brother the whole time. Her boyfriend covered up a tattoo of Gabe's ex. And Monica herself was the one who pushed for him to be on 90 Day Fiance.
Obviously, we knew that she had questions and doubts about Isabel. But despite initial wariness on both sides, their first real meeting seemed to go well. Right? Even Gabe thought so.
Apparently not. The night before the wedding, Gabe and Monica clashed. And to hear him tell it, Monica talked herself into an angry frenzy.
As Gabe explains to the camera, he and Monica were having a good time. Isabel was on her way, and he was eager for her to join them.
Then, Monica wanted to go. Gabriel, being thoughtful, told her that he did not want to leave abruptly as soon as his bride-to-be arrived.
This is apparently when Monica began accusing Isabel (not to her face) of being toxic, by way of telling Gabe that he shouldn't marry someone he's "afraid" to talk to. There have been no indications of that … and it really just sounds like he was being thoughtful.
Even later, in the car, Gabe heard his sister muttering to herself about Isabel being a bad match for him. It sounded intense.
The thing is that it's not like Monica had a bad experience with Isabel. She just doesn't really know her, which is very different. (They really, really should have met long before the wedding)
As Gabe's beautiful mother, Marie, pointed out … they can't resolve this here and now. Gabe needs to prepare for his wedding.
Their mom loves them, and she doesn't take sides when they clash. But she had to be all-business after comforting her son.
Heartbroken by his sister's last-minute cancelation or not, Gabe needed to get ready.
This is his wedding. It literally won't start without him, and he truly should not be late.
Meanwhile, Gabe was not the only one receiving comfort from a parent.
Isabel was anxious. She had only had a limited time to prepare for this wedding, and given circumstances — her living in Colombia, her being fully fluent in her native tongue, and more — she had planned the entire wedding herself.
Her family helped, of course. And her father reassured her that everything would be okay.
But Gabe was not there yet. And Isabel's anxiety was beginning to spike. (Honestly, even wedding guests sometimes feel this way, so it's very valid for the actual bride)
Gabriel had not shared Monica's negative spiral with Isabel. But she had her suspicions.
This will always be part of their wedding day story, even if Monica does show up. Unless something else goes wrong that prevents the nuptials entirely.