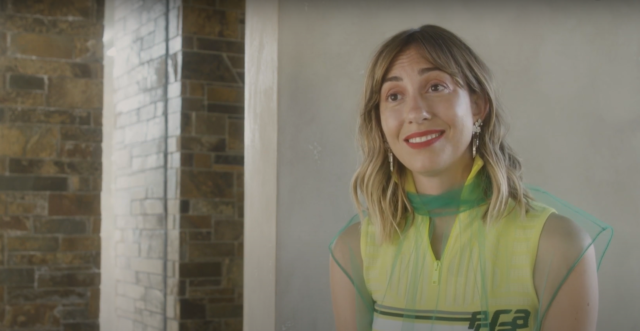 Gia Coppola is paying tribute to the fanatics who worship at the altar of Joey, Nathan, Nick, Justin, Ashley, Harry, and Jungkook. She'll follow-up "Mainstream," her 2020 exploration of social media stardom, by directing "superfans: screaming. crying. throwing up.," a documentary that celebrates "the culture-shifting influence of boy band superfans," per Deadline.
Based on Maria Sherman's 2020 book "Larger Than Life: A History of Boy Bands from NKOTB to BTS," the project "dives into the fangirl experiences, movements, and markets of the '80s, '90s, and 2000s, spotlighting the devoted girls, women, and queer fans who have turned boy bands—including New Edition, New Kids on the Block, Backstreet Boys, *NSYNC, One Direction, and BTS—into multi-billion dollar franchises that dominate both the airwaves and pop culture phenomena," the source details. It will "explore a range of fan groups and the difference they've made beyond making these boy bands a success, from 1D fan-generated LGBTQIA+ movements to the BTS ARMY's support of Black Lives Matter. 'superfans: screaming. crying. throwing up.' will celebrate the special loyalty that lasts a lifetime between these fans and bands and the symbiotic relationship between them that heals each other through a therapeutic, all-consuming adoration."
Coppola is also producing the XTR and Aggregate Films title via her company, Detour.
"When I started 'Larger Than Life' half a decade ago, my ambition was to write something that did justice to boy band fans, to celebrate their enthusiasm, undeniable influence, and life-affirming joy. Telling that story on screen seemed like a total fantasy," said Sherman, who is serving as an exec producer. "'superfans: screaming. crying. throwing up.' could not be more appropriately titled; working with XTR, Aggregate, and the brilliant Gia Coppola is a dopamine hit that rivals shouting along to a pop song's bridge. I mean, in the immortal words of One Direction, what a feeling!"
Coppola added, "I'm a proud pop fangirl, so the opportunity to translate Maria's contemporary, sharp, fun book into documentary form, a format I've been craving to dabble in, is beyond exciting."
The writer and director made her feature debut with "Palo Alto," a 2013 coming-of-age pic led by Emma Roberts.