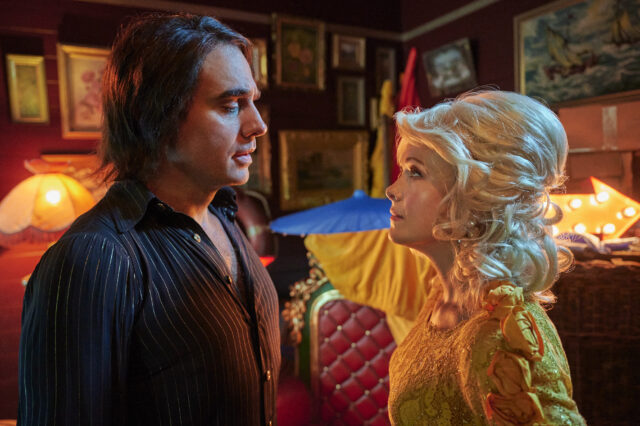 Tired of working "9 to 5" in real estate, a woman decides to try her luck as a Dolly Parton impersonator in "Seriously Red." Gravitas Ventures recently scored North American rights to Gracie Otto's musical. Deadline reports that a 2023 release is being planned for the pic, which made its world premiere at SXSW earlier this year.
"Seriously Red" tells the story of Red (Krew Boylan, "The Secrets She Keeps"), who misreads her work party's dress code and consequently "tumbles outta bed into a new world of tribute artists and impersonators in her wild and messy journey that includes romancing a Kenny Rogers impersonator. Red must lose herself to find herself," the source teases.
"Seriously Red" is penned by Boylan and includes songs from Parton's catalogue. "Physical's" Rose Byrne is a producer on the pic and plays a Parton impersonator.
"Krew Boylan's fantastic screenplay was really the draw card for me," Otto told us. "Also the fact I had always admired her as an actress — she has such great physical comedy and also can really hit dramatic beats. I thought the story was so original and had potential to bring a really interesting style to it. Since moving back to Australia I fell back in love with the '90s Golden Era of Australian films, like 'Muriel's Wedding,' and I saw 'Seriously Red' as a film that could become a classic in its own way."
Regarding the acquisition, Otto, who also counts SXSW doc "Under the Volcano" among her credits, said, "We're excited to bring the film to North American audiences with Gravitas Ventures, who share our passion for music and the icon herself, Dolly Parton!"
Bill Guentzler, Gravitas Ventures' Senior Director of Acquisitions, added. "Featuring some of the greatest hits of soon-to-be Rock and Roll Hall of Fame inducted Dolly Parton, 'Seriously Red' is an intimate, personal, and laugh-out-loud comedy that shows that sometimes you have to try to be a different person to find out who you truly are. Gravitas is proud to bring this film to theaters and VOD early next year. We know audiences will love the film as much as we do."