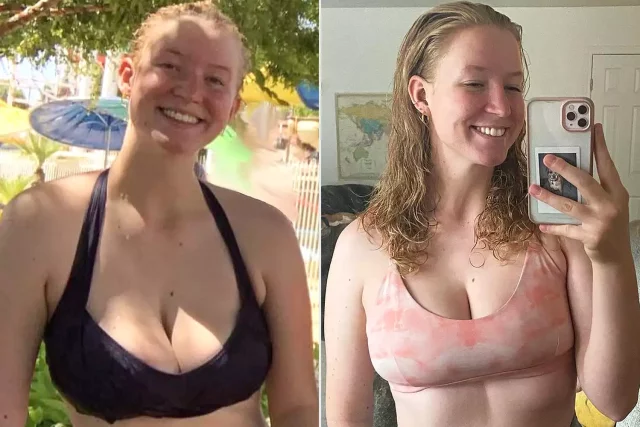 Gwendlyn Brown has taken a break from talking about members of her family to place the spotlight on herself.
The 21-year old daughter of Christine and Kody Brown has been using her YouTube channel over the past several months to rewatch old episode of Sister Wives.
She then comments on the storylines, often trashing her infamous dad for being selfish and useless.
On July 12, however, Gwendlyn shared a couple of photos (paired together below) on Instagram and explained the basis for why she posted these online.
"happy breast reduction anniversary," the reality star captioned the photos.
"i had the anti-boob surgery done July 11, 2022, so technically yesterday was the anniversary but who's counting?"
Brown said in accompanying YouTube footage that she had wanted to get the procedure done in order to boost her confidence and help with her spine health, adding that it took about a year between her decision to undergo the surgery…
… and for the surgery to actually take place.
The procedure lasted five hours, involved strapping her arms and legs down… and was apparently scary AF.
"I was thinking to myself, I was like, 'I'm going to die here,'" she said on YouTube.
"I was panicking, my heart was beating and then I pass out."
Brown said she woke up in a wheelchair after the surgery and her mother wheeled her back out to the car.
Over the next few days she took prescription medication for the pain and was forced to wear a compression bra to help with post-surgery healing, in addition to using a breathing machine to "help my body get back to normal."
Continued Gwendlyn, who is no fan at all of Robyn Brown:
"I had this terrible pain in my scars or my open wounds at the time and there was nothing I could do about it. It felt like bruises that were just constantly being pressed down.
"An awful, awful feeling."
It was very challenging, but Gwendlyn praised fiancée Beatriz Queiroz and others loved ones for acting as a "full service team" during the recovery period.
In the end?
Yes, she still has scars from the procedure, but Brown said she's "very happy" with the results.
More than very happy, in fact.
"It's one of the best decisions I've made in my life. I don't regret it," she added. "It feels amazing to not be teased or sexualized as much anymore."
S
A