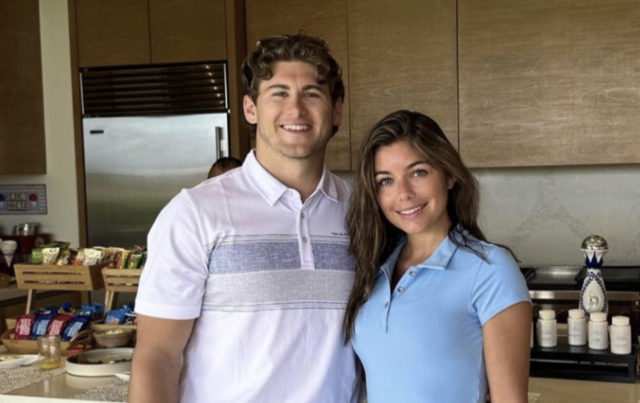 Well, Hannah Ann Sluss may not have found love on Peter Weber's season of The Bachelor, but it looks like she's finally getting the happy ending she deserves!
Hannah announced this week that she's engaged to Indianapolis Colts running back Jake Funk.
Funk already has a Super Bowl ring from his season with the Los Angeles Rams, but it looks like he'll soon add a wedding band to his bling collection!
Hannah announced the news to her 900,000 TikTok followers on Wednesday.
Sluss posted a video of Funk's proposal, which was apparently quite an elaborate affair.
Jake had the words "She Said Yes" projected onto a massive rock not far from where he and Hannah were having dinner on the beach.
So not only is he the love of her life, with stunts like that Jake will also do wonders for Hannah's TikTok presence!
Not surprisingly, Hannah received a ton of congratulatory comments from her former Bachelor co-stars.
"STOP! So excited for you my girl!! Congrats!!!!!" Madison Prewett wrote.
"So happy for you!! Congrats, congrats, congrats!!" Kelley Flanagan added.
It's not clear how long Hannah and Jake have been dating, but she's been gushing about her new fiancé since at least April.
In one interview, she made it clear that her parents love Jake almost as much as she does.
"They adore him," she told E! News at the time.
"They think he's, like, such a great fit for me."
Earlier this month, she posted a birthday tribute in which she called Jake the "love of my life."
"I wouldn't want to do this crazy life with anyone but you!!" Hannah added.
Hannah and Jake have not yet revealed any wedding plans, but we're sure they're both over the moon!
Hannah, as you may recall had a tough time during her season of reality TV stardom.
She Peter Weber proposed to Sluss during his final episode on The Bachelor, but the relationship went downhill shortly thereafter.
Just a few weeks after he popped the question, Peter decided to end the relationship with Hannah so that he could chase after Madison Prewett, who had taken herself out of the competition.
They briefly dated, and when that relationship went south, Peter began dating Kelley Flanagan, who was also a contestant from his season.
For obvious reasons, Peter is not remembered as one of the more likable Bachelors in the history of the franchise.
Anyway, after all that heartache, it looks as though Hannah has finally found her Mr. Right!
Our sincere congratulations go out to Jake and Hannah, and we wish these two lovebirds all the best going forward!