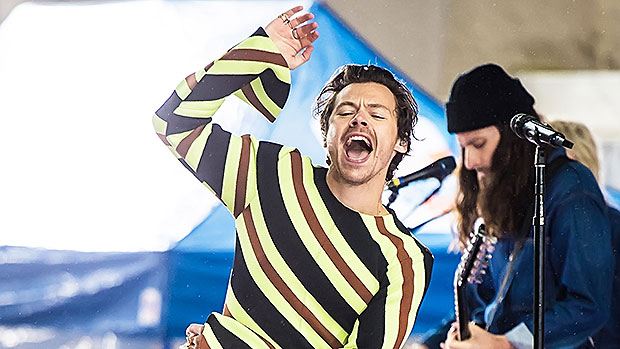 Harry Styles appeared to be visibly shaken after he was hit in the face by a flying object at his concert in Vienna on Saturday. The incident was another example of the current trend of musical artists, including Bebe Rexha, Kelsea Ballerini, and Pink, being pelted onstage during their performances.
Harry Styles został trafiony w oko przedmiotem rzuconym przez fana. pic.twitter.com/oaIVZkHYwQ

— MNFPL (@mnfplmedia) July 9, 2023
In a viral video (above), Harry can be seen wincing before instinctively grabbing his head after a projectile unexpectedly hit him in his face. This incident adds to a series of similar occurrences where the "As It Was" singer has been unintentionally struck. Just last November in Los Angeles, he endured an eye injury when a fan playfully tossed Skittles in his direction, per Rolling Stone.
The former One Directioner is one of several artists hit recently during their concerts. Last month, Bebe was struck in the face with a cellphone, resulting in the arrest of a man and the pop princess getting stitches. The "Me, Myself, and I" singer, 33, posted a close-up photo showing her black eye to Twitter after a fan asked how she was doing on Friday, June 28. Bebe said she was feeling "much better" after the incident.
My eye black and blue now but much better!!!! Thank you!!! https://t.co/FBv9oG5NcG pic.twitter.com/InQwWLfqfM

— Bebe Rexha (@BebeRexha) June 23, 2023
During a recent live performance in Los Angeles, Ava Max found herself on the receiving end of an unexpected slap when an audience member managed to reach the stage. Another peculiar incident took place in London just last week, where Pink had an unsettling encounter with a fan who seemingly threw their late mother's ashes at her during a concert. Adding to the bizarre chain of events, Kelsea was struck in the eye by a stray bracelet mere days after Pink's incident.
The trend has become so out of control that some artists are asking their fans to calm down a bit. Adele called out the behavior during a show at her Las Vegas residency earlier this week. "Have you noticed how people are like, forgetting f****** show etiquette at the moment? People just throwing s*** on stage, have you seen them," Adele said. "I f****** dare you. Dare you to throw something at me and I'll f****** kill you."
Click to Subscribe to Get Our Free HollywoodLife Daily Newsletter to get the hottest celeb news.