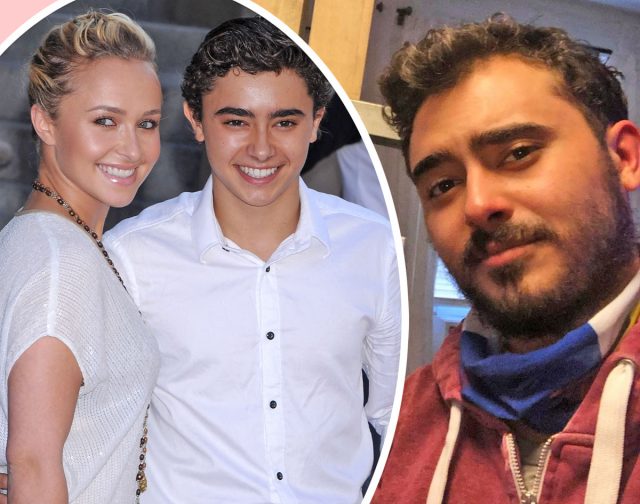 The Panettiere family is opening up about the loss of their beloved son and brother, Jansen Panettiere, days after his shocking death. On Monday in a statement to ABC News, the family revealed the 28-year-old actor died from an enlarged heart, sharing:
"Though it offers little solace, the Medical Examiner reported Jansen's sudden passing was due to cardiomegaly (enlarged heart), coupled with aortic valve complications."
Cardiomegaly is usually a sign of another condition, such as a heart valve problem or heart disease. It might also signal a prior heart attack. So, so sad.
Related: Miles Teller's LA Home Ransacked & Robbed In Unsolved Invasion
The statement, shared on behalf of his parents Lesley Vogel and Skip Panettiere as well as his sister Hayden Panettiere, went on to remember the artist for his personality and talent, mourning:
 "Jansen's heart could be seen in his eyes, and his charm in his brilliant, engaging smile; his soul in his masterful and revealing paintings, and the joy of life in his dry wit."
They continued:
"His charisma, warmth, compassion for others, and his creative spirit will live forever in our hearts and in the hearts of all whom he encountered."
As we reported, the Even Stevens alum was found unresponsive "sitting upright in a chair" on February 19 after he was a no-show at a business meeting and his friends rushed to his New York residence. One friend called 911 and performed CPR on the scene. Tragically, the performer was pronounced dead when EMTs arrived. At the time, authorities said no foul play was suspected. Since the shocking loss, some sources have come forward to Daily Mail to claim the Ice Age: The Meltdown alum had been addicted to opioids, believed to be Oxycodone, for years. There's been no confirmation that drug use  was involved in his death so far.
Related: Bethenny Frankel Breaks Down Over Difficult Battle With POTS Syndrome
At this time, the Nashville alum has not publicly commented on her loss. The siblings appeared to be close, even posing together in a sweet snapshot on the painter's Instagram in late January. They also gained fame together by co-starring in films Tiger Cruise and Racing Stripes. Concluding their latest message on Jansen's cause of death, the family asked for privacy as they continue to process this significant loss, noting:
"We sincerely appreciate the outpouring of love and support towards our family as we navigate this unthinkable loss, and ask that we be gifted our privacy during this time of mourning. We love you so much Jansen and you will be in our hearts forever."
Aside from his family and friends, the young man also leaves behind his girlfriend Catherine Michie, who opened up about the devastating death while sharing a carousel of photos the day after the news broke, writing:
"Jansen, I met you only a year ago, but you have been my best friend and biggest fan."
She went on to wish him nothing but "peace," sharing:
"I hope you find peace, and I'm sorry I wasn't there when you needed me most. The world is better because you were in it. I know we will paint together again someday. I'll always be your sugarpop. Someone wake me up and tell me this is a dream."
So very heartbreaking for all of Jansen's loved ones. We are thinking of them all as they mourn this tragic loss. R.I.P.
[Image via MEGA/WENN & Jansen Panettiere/Instagram]