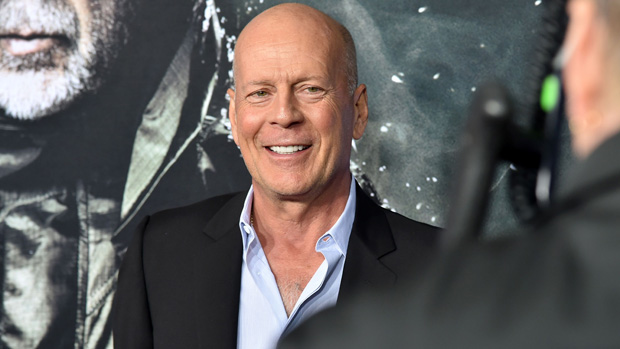 Bruce Willis is best known for his roles in Die Hard, Pulp Fiction, and The Sixth Sense.
In 2022, his family announced that Bruce was diagnosed with aphasia, a neurological disorder affecting speech.
The following year, his family announced his condition had worsened, and he'd developed frontotemporal dementia.
Bruce Willis is one of the most beloved and celebrated actors in film and television history. He got his start on the legendary 1980s comedy drama Moonlighting, before landing a breakthrough film role in 1988's Die Hard. He showcased his comedy chops in the Look Who's Talking series, and continued his rise as an action star with the first two Die Hard sequels. After a dip in his career, he returned to the public eye thanks to Pulp Fiction, as well as 12 Monkeys, The Fifth Element, Armageddon, and The Sixth Sense. In the 2000s and 2010s, he enjoyed success as an action star (The Expendables, Red) and as a dramatic/comedic actor (Looper, Moonrise Kingdom.) Sadly, in the 2020s, his health began to decline, and his career began to frazzle, with him appearing more frequently in lower-budget films.
Sadly, Bruce's career came to a close in 2022 when his family made the heartbreaking announcement: he had been diagnosed with aphasia, a disorder affecting his cognitive abilities. "As a result of this and with much consideration, Bruce is stepping away from the career that has meant so much to him," read a statement shared by his family on social media: wife, Emma Heming Willis, ex-wife Demi Moore, and his daughters, Rumer Willis, Tallulah Willis, Scout Willis, Mabel Willis, and Evelyn Willis.
Sadly, a year after the first announcement, the family gave an update: Bruce had been diagnosed with frontotemporal dementia. "Unfortunately, challenges with communication are just one symptom of the disease Bruce faces. While this is painful, it is a relief to finally have a clear diagnosis," the family wrote.
Despite this news, Bruce continued to remain in good spirits. He celebrated his 68th in 2023 with his family, a bittersweet moment to some knowing his struggles. As he continues to live his life to its fullest, here's what we know about his condition.
Bruce Willis Diagnosed With Frontotemporal Dementia Diagnosis
Bruce Willis' family first announced he was diagnosed with aphasia on Mar. 30, 2022, in a post that was shared amongst all their social media accounts. "To Bruce's amazing supporters, as a family, we wanted to share that our beloved Bruce has been experiencing some health issues and has recently been diagnosed with aphasia, which is impacting his cognitive abilities," the statement read. "As a result of this and with much consideration, Bruce is stepping away from the career that has meant so much to him."
"This is a really challenging time for our family, and we are so appreciative of your continued love, compassion, and support. We are moving through this as a strong family unit and wanted to bring his fans in because we know how much he means to you, as you do to him. As Bruce always says, 'Live it up,' and together we plan to do just that," the statement concluded. It was signed by Bruce's daughters – Rumer, Tallulah, Scout, Mabel, and Evelyn Willis – and his wife, Emma Hemming, and ex-wife, Demi Moore.
Aphasia is "a disorder that affects how you communicate," per the Mayo Clinic. "It can impact your speech, as well as the way you write and understand both spoken and written language." The disorder can be a side-effect of a stroke or a traumatic brain injury. It can also come on gradually due to a slow-growing brain tumor or a "disease that causes progressive, permanent damage (degenerative)."
The condition sees a person speak in short or incomplete sentences, substitute one for another or one sound for another, have difficulty finding words, and struggle to understand what they've read.
Bruce's friends and peers paid tribute to him following this announcement. "Bruce and I became good friends when we shared 2 of our biggest hits together, Pulp Fiction and Look Who's Talking," wrote John Travolta. "Years later, he said to me, 'John, I just want you to know that when something good happens to you, I feel like it's happening to me.' That's how generous a soul he is. I love you, Bruce."
"It's been difficult to find the right words for someone I've always looked up to—first on the big screen, and then by some wild stroke of luck, in person," wrote Haley Joel Osment, who starred alongside Bruce in The Sixth Sense. "He's a true legend who has enriched all of our lives with a singular career that spans nearly half a century. I am so grateful for what I got to witness firsthand, and for the enormous body of work he built for us to enjoy for years and years to come. I just wanted to express the respect and deep admiration I have for Bruce and his family as they move forward with the courage and high spirits that have always defined them."
Following the announcement, Bruce enjoyed his life with the occasional public sighting. However, in February 2023, his family announced that his condition had worsened.
"As a family, we wanted to take this opportunity to thank you all for the outpouring of love and compassion for Bruce over the past ten months. Your generosity of spirit has been overwhelming, and we are tremendously grateful for it. For your kindness, and because we know you love Bruce as much as we do, we wanted to give you an update," the family wrote in a statement published on the Association for Frontotemporal Degeneration website.
"Since we announced Bruce's diagnosis of aphasia in spring 2022, Bruce's condition has progressed, and we now have a more specific diagnosis: frontotemporal dementia (known as FTD)," the statement continued. "Unfortunately, challenges with communication are just one symptom of the disease Bruce faces. While this is painful, it is a relief to finally have a clear diagnosis."
"Bruce always believed in using his voice in the world to help others," the statement read, "and to raise awareness about important issues both publicly and privately. We know in our hearts that – if he could today — he would want to respond by bringing global attention and a connectedness with those who are also dealing with this debilitating disease and how it impacts so many individuals and their families."
"Bruce has always found joy in life – and has helped everyone he knows to do the same. It has meant the world to see that sense of care echoed back to him and to all of us. We have been so moved by the love you have all shared for our dear husband, father, and friend during this difficult time. Your continued compassion, understanding, and respect will enable us to help Bruce live as full a life as possible," the statement concluded. It was signed by his family.
What Is Frontotemporal Dementia?
Frontotemporal dementia, according to the Mayo Clinic, is an "umbrella term for a group of brain disorders that primarily affect the frontal and temporal lobes of the brain." Some of the side effects listed include "Increasing difficulty in using and understanding written and spoken language, such as having trouble finding the right word to use in speech or naming objects," "no longer knowing word meanings," and "no longer knowing word meanings."
"FTD is a cruel disease that many of us have never heard of and can strike anyone," Bruce's family wrote in their 2023 statement. "For people under 60, FTD is the most common form of dementia, and because getting the diagnosis can take years, FTD is likely much more prevalent than we know. Today there are no treatments for the disease, a reality that we hope can change in the years ahead. As Bruce's condition advances, we hope that any media attention can be focused on shining a light on this disease that needs far more awareness and research. "
"Ours is just one family with a loved one who suffers from FTD, and we encourage others facing it to seek out the wealth of information and support available through AFTD (@theaftd, theaftd.org). And for those of you who have been fortunate enough to not have any personal experience with FTD, we hope that you will take the time to learn about it and support AFTD's mission in whatever way you can."
How Long Has Bruce Willis Been Sick?
In the case of Bruce, there were some suspicions that he was struggling with the condition years before the announcement. Mike Burns, director of Out of Death, wrote in an email about how Bruce's role needed to be reduced. "We also need to abbreviate his dialogue a bit so that there are no monologues, etc," he wrote, per the Los Angeles Times.
The Los Angeles Times also reported that "those who have worked with the elder Willis on his recent films, the actor has been exhibiting signs of decline in recent years. In interviews with The Times this month, nearly two dozen people who were on set with the actor expressed concern about Willis' well-being." The unnamed individuals" questioned whether the actor was fully aware of his surroundings on set," how he "grappled with his loss of mental acuity," and had an "inability to remember his dialogue."
Lala Kent, who appeared in Hard Kill, recounted an incident. "I'm supposed to think my life is about to end, and then my dad steps in to save the day," Kent told the Times. Bruce was supposed to deliver a line that cued Kent to duck before he fired his gun at a villain.
Bruce didn't and fired the prop gun before saying the line. "Because my back was to him, I wasn't aware of what was happening behind me. But the first time, it was like, 'No big deal, let's reset,'" she said. The same thing reportedly happened on a second and third take, per the Los Angeles Times (a crew member stressed that they always made sure everyone was safe and not in the line of fire.) Randall Emmett, Kent's ex and producer on the film, denied this incident happened, as did the film's armorer.
How Is Bruce Willis Doing TOday?
On March 19, 2023, Bruce Willis turned 68. He did so while surrounded by his loved ones. In a video shared on Demi Moore's Instagram, his family sang "Happy Birthday" to him. The Die Hard actor was all smiles while conducting this chorus. "Just like that," he said. He even pulled a fake out when it came time to blow out his birthday candle.
"So today is my husband's birthday. I have started the morning by crying, as you can see by my swollen eyes and snotty nose," commented Bruce's wife Emma in a video posted to her Instagram. "I just think it's important that you see all sides of this. I always get this message, or people tell me, 'Oh, you're so strong, I don't know how you do it.' I'm not given a choice. I wish I was. But I'm also raising two kids in this, so sometimes in our lives, we have to put our big girl panties on and get to it, and that's what I'm doing. But I do have times of sadness every day, grief every day, and I'm really feeling it today on his birthday."
Click to Subscribe to Get Our Free HollywoodLife Daily Newsletter to get the hottest celeb news.