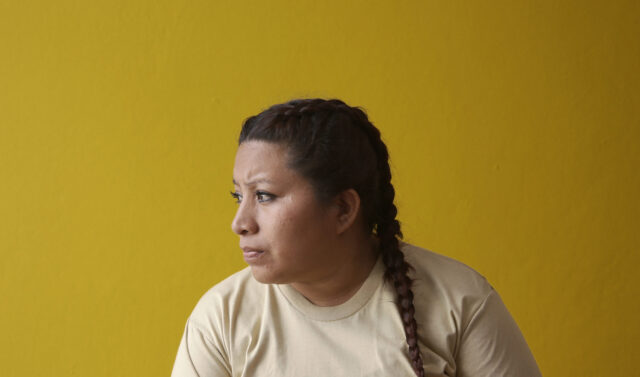 Celina Escher is a Swiss-Salvadorean filmmaker telling stories about women as well their pursuits of empowerment, artistic processes, and their sociopolitical contexts. Her film "Verde Olivo" was shown at the Film des Femmes Créteil in France and festivals in San Francisco, England, and Germany. In March 2019, Escher was selected with 50 new Latin American filmmakers at the Talent Campus of Guadalajara International Film Festival. "Fly So Far" marks her first feature film. The doc won the Ibero-American Competition Grand Jury Prize at the Seattle International Film Festival and the Activist Documentary Award at the Movies that Matter Festival.
"Fly So Far" is screening at the 2021 Hot Docs Canadian International Documentary Film Festival, which takes place April 29-May 9. The fest is digital this year due to COVID-19. Streaming is geo-blocked to Canada.
W&H: Describe the film for us in your own words.
CE: "Fly So Far" is the story of Teodora Vásquez, the spokesperson of the Seventeen, a group of women who have been criminalized for having an obstetric emergency and sentenced to 30 years of prison. Due to the abortion ban in El Salvador, women who live in poverty have been criminalized for having a miscarriage or a stillbirth. We follow Teodora throughout the entire process, from being a victim of a misogynistic system to becoming a women's rights activist.
Our film focuses on the sisterhood the women weave during their time in prison as well as the possibilities of empowerment and solidarity inside and outside prison.
"Fly So Far" is an homage to working-class women, single mothers, and women in the countryside who fight and struggle to feed their families every day.
W&H: What drew you to this story?
CE: I'm a Salvadorean documentary director and a feminist, and I strongly believe that we women have the right to choose for our bodies. When I heard that women in El Salvador were imprisoned for miscarriages and stillbirths, I got very angry. Due to the legislation, women cannot interrupt a pregnancy to save their lives, or even in cases of rape. Women are being criminalized for being women.
I entered the Ilopango Women's Prison to meet Teodora and the other women. There, my anger transformed into admiration: admiration for Teodora, who supports the other women, giving them strength and hope. The sisterhood that united the women over the years, the strength and determination of Teodora, and how she fights for her sisters inspired me to create this film.
I was touched and deeply moved by their stories, but I felt powerless along with them. In hopes of better supporting their struggle for freedom and justice, I decided to take their stories out of prison and create a film. I followed Teodora's journey, visiting her and the other women in different prisons throughout El Salvador. I was deeply shocked, disgusted, and angered to witness the dehumanization of women in prison and their terrible living conditions. What I witnessed was overcrowded prisons, limited access to water, including drinking water, and no access to healthcare.
What motivated me most to create this film was the sisterhood between the women, but also the goal of denouncing human rights violations perpetrated by the Salvadoran state against women. And to reclaim autonomy over our bodies.
W&H: What do you want people to think about after they watch the film?
CE: With this film, we want to open up the dialogue about the right to choose. I hope the audience can see and feel the reality Salvadoran women are living in, and reflect on how the patriarchy systematically oppresses women. I hope the film will help viewers understand that abortion is not about religion but access to health and a fundamental human right, and help them consider what happens when rights are taken away.
This is evident in Alabama and Texas, where elected officials are attempting to pass regressive policies against the right to choose. This could happen to any woman in the world.
Lastly, we hope the audience can be inspired by the strength and courage of Teodora and the Seventeen, and hopefully take action to support their fight for freedom and justice.
W&H: What was the biggest challenge in making the film?
CE: Filming in prison was challenging as I had only two hours to film per visit. I also had to wait almost two years to get access to the dorms. The filming itself took approximately three years.
As a filmmaker, it was difficult to work with a subject charged with violence and trauma. I was grateful to each woman for sharing their testimony, and for their trust in me. From obstetric violence, physical and sexual violence, to police and state violence, they have survived it all. All their stories, all their testimonies affected me during the making of the film as a filmmaker and a person.
W&H: How did you get your film funded? Share some insights into how you got the film made.
CE: The Swedish Film Institute and the IDFA Bertha Fund supported us and made the film possible. "Fly So Far" was the wildcard of the Swedish Film Institute in the Nordisk Panorama Film Festival 2019. I worked with an independent Swedish production company, Pråmfilm, which works with social and independent films.
W&H: What inspired you to become a filmmaker?
CE: I started with painting, and from there I started photography. I travelled with my small camera, recording and trying to understand different realities in Mexico, Palestine, and the Sahrawi community. I wanted to study documentary film, to combine art with the storytelling of people and their struggles — with the hope that somebody would feel the injustice and take action.
I also didn't see myself represented in the cinema of women. I didn't see women with whom I could identify; the male gaze is dominant in not only filmic storytelling but in all types of art. Throughout art history, women have been objectified. So I decided to tell stories about women: women who lead their own lives and fight for themselves and for other women. To this day, I want to tell stories about women who inspire me, and in turn I hope they inspire others.
Studying at the Escuela Internacional de Cine y Televisión (EICTV) Cuba inspired me to dedicate my life to cinema. The EICTV is a great film school, where students from different countries, backgrounds, and continents come together to share their common passion for cinema. I want to connect worlds, to understand another reality in another place and another culture as a way to share stories, to understand other cultures and other struggles.
I believe in the power of cinema and the power of the people. Cinema is a reflection of reality: it is a way to express, understand, connect, and it has the power to motivate action for social change.
W&H: What's the best advice you've received?
CE: Trust your instinct.
W&H: What advice do you have for other women directors?
CE: Trust your instincts, believe in yourself, and keep fighting for the stories you believe in — the stories that touch you and shake you. Listen and feel the other. People are more important than films. Work with people with whom you share political and aesthetic views. Film with your heart — feel the emotions of your character or story and let reality surprise you.
W&H: Name your favorite woman-directed film and why.
CE: Agnès Varda is the pioneer of feminist directors as she opened the path for us all. She centers the stories around women and the people in her film. These include the working-class folks and social movements like the Black Panthers and the Cuban revolution. Her films reflect on and pay homage to the times she lived in. All her films are inspiring. Her feminist perspective and her joyful, poetic storytelling all make me admire her work as an artist and a director.
Maya Deren's "Meshes of the Afternoon," an experimental film which plays with surrealism and dreams in a dream visual narrative, is another favorite.
Tatiana Huezo's "El Lugar Más Pequeño" is a poetic documentary about the survivors of the massacre in Cinquera during the civil war in El Salvador. Tatiana tells the stories of the people affected by the war in a poetic and intimate way. We can hear and imagine the atrocities while visually it is a poetic experience.
W&H: How are you adjusting to life during the COVID-19 pandemic? Are you keeping creative, and if so, how? 
CE: I keep myself busy and creative by stepping into nature and letting myself be inspired. I'm working on an impact campaign for the Seventeen women who were unjustly incarcerated and criminalized for having had a miscarriage. With our film, we want to open up a dialogue about reproductive health. We, along with so many others, seek justice for the Seventeen and the present and future generations of Salvadoran women. We are working on creating channels and a network of support for the women in the community: what is urgent is how we can support and help the women directly.
At the moment, I am also working on several projects, both experimental and environmental short films. I am also working on a feature hybrid film about a Salvadoran female guerrilla fighter.
W&H: The film industry has a long history of underrepresenting people of color onscreen and behind the scenes and reinforcing — and creating — negative stereotypes. What actions do you think need to be taken to make Hollywood and/or the doc world more inclusive?
CE: Support films directed and written by women, especially those from the Latinx, Black, Indigenous, from the LGTBQ community. Let us tell our own stories and open up spaces where films can be exhibited and open up channels for distribution. With different points of view, cinema becomes more inclusive and richer in diversity. Search for characters who break stereotypes and can show you another way to confront reality. Also use the Bechdel test, have 50 percent quotas of women, and ensure that women are getting paid equally to men.