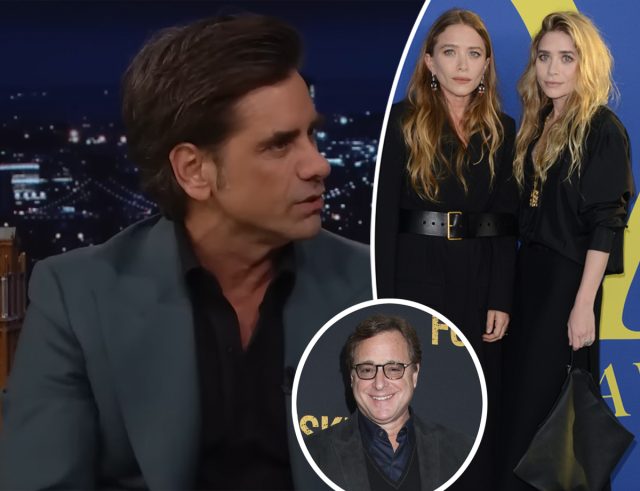 John Stamos wasn't too happy with Mary-Kate and Ashley Olsen for a long time after they decided not to join the reboot of Full House. However, their issues quickly became water under the bridge when their beloved cast member Bob Saget suddenly passed away in January 2022.
During an appearance on the And That's What You REALLY Missed podcast on Thursday, the 59-year-old actor admitted to hosts Jenna Ushkowitz and Kevin McHale that he was really "angry" with the fashion designers when Netflix brought back the beloved sitcom in 2016, and they refused to return. Why is that? John noted he heard rumors at the time that Mary-Kate and Ashley "hated their childhood" on Full House, which upset him a little bit at the time. However, those rumors ended up not being true. The ER alum clarified on the podcast:
"But they said, 'We loved our childhood. We loved being with you. We miss Bob [Saget].'"
Related: John Stamos Once Got The Olsen Twins Fired From Full House!
According to John, the cast of Full House – including Candace Cameron Bure, Jodie Sweetin, and Dave Coulier – "didn't see them much" once the original show ended in 1995, and they moved to New York. The Glee star shared that he only "stayed in touch a little bit" with Ashley and Mary-Kate.
But when it came to Bob? John said the former America's Funniest Home Videos host "really did" maintain a close relationship with the former actresses up until his tragic death last year. As John said, the 65-year-old comedian " was very instrumental in keeping us all together" when the series was over. And sadly, it was Bob's passing that reconnected John to Mary-Kate and Ashley again. And as a peace offering, John recalled on the podcast that they brought over a "frozen pork chop and sage" to his home. That's an inneresting olive branch. He added:
"I don't know why, but thank you? It was a frozen pork chop, so that was really nice. So we stayed very close."
Ultimately, John feels his repaired relationship with then twins is "one of the only good things to come out of Bob's [death]." Wow. It's heartbreaking the circumstances that reunited the trio again, but we're glad to hear they have maintained a close bond since then. Reactions to what John had to say, Perezcious readers? Let us know in the comments below.
[Image via The Tonight Show starring Jimmy Fallon/YouTube, Ivan Nikolov/WENN]