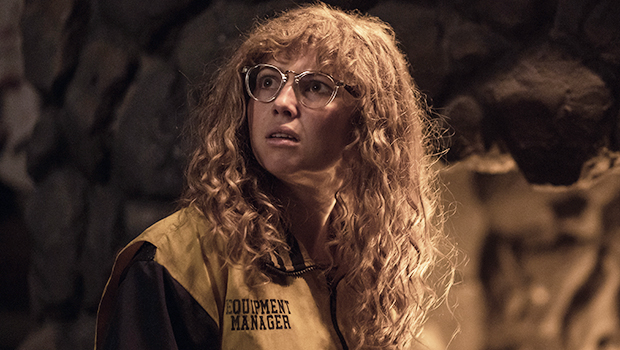 Let the cannibalism begin. Yellowjackets went there in the final moments of season 2 episode 2. After Tai realizes Shauna isn't coping with Jackie's death with her best friend's corpse still around, Jackie's body is burned. A pile of snow falls on Jackie's pyre in the middle of the night, which prevents her body from turning to ash. Instead, Jackie's body literally roasts.
Shauna and the survivors wake up in the middle of the night to a strange smell. When they walk outside, they see the smoke simmering from Jackie. "She wants us to," Shauna says. Shauna takes the first bite, and the rest (except Coach Ben) follow, feasting on Jackie after weeks of rationing and starvation. HollywoodLife spoke EXCLUSIVELY with Samantha Hanratty about this game-changing moment in the woods.
"When she kind of gives the okay for it, I think that there's this poetic moment of Jackie's going save her and her baby's life," Samantha said about Shauna. "There's almost something sweet about it. If you can really try to find something sweet about it there is. But I think that for everybody else, it's so interesting because the way we filmed it with this goddess kind of vibe, and we're all enjoying ourselves, and then this breaks reality. I think they're all on this high of like, this is food. This is good food. Once Shauna says she wants us to, it's like all of them are like, yeah, she wants us to. This is what we need to do, but we needed to get the okay from Shauna first. Not to give too much of a spoiler, but there's somebody else other than Ben, who may not… Some people are not in their mentally right minds about what's going on."
Coach Ben watches in horror as Jackie's body is eaten by the survivors. He doesn't take part and instead goes back inside the cabin and slams the door. "I think that there's a lot going on with Ben. If I were him, I'd be thinking if they're capable of doing that, am I in trouble?" Samantha told HollywoodLife. "I think that Steven [Krueger] played it so beautifully and had so many different things that we could just see on his face and emotions. I think Ben's realizing that things have gotten really chaotic and really crazy and past the point of no return at that."
Samantha admitted that Jackie's roasted body "felt like rotisserie chicken." The actress noted that she's "predominantly plant-based, so I don't eat animals." The body was made of jackfruit, and Samantha pointed out that everyone started calling it "Jackie-fruit." Now that's an epic pun.
She continued, "It was jackfruit and then they did rice paper and crisped the rice paper so that it kind of gave this rotisserie vibe to it. The parts that were crispy were great. They were good. But some parts had gotten really soggy, so it had that skin-like texture and look to it. I did throw up when we were filming. It was like the last couple of bites, and I couldn't do it."
In the wake of Jackie's death, Lottie has emerged as a leader amongst the survivors. Many survivors think that Lottie may have powers, while some haven't been so quick to fall into that rabbit hole. There's been a debate about whether or not the show is leaning into a supernatural element or if all the strange happenings are simply rooted in psychological trauma.
"There could possibly be answers. We filmed some things that might have answers. But who knows when you'll see those answers," Samantha teased.
Especially in the case of feasting on Jackie, your mind can make the most illogical things logical in the wake of severe trauma. "Your mind can make you sick. Your mind can heal you. Our minds are so powerful, especially in the state that they're all in," the actress said. "But there are certain things that you look at that you're like, okay, but how could she have done this? What happened with the bear? There are so many questions, and I think that everybody is valid to have their feelings towards what it is. All the girls in the cabin who don't believe it are valid and are like, the bear was sick. That's valid. That makes sense. Lottie could have powers. That also kind of makes sense. Crazier things have happened. I feel like that's what makes it so interesting is that there's not a clear answer yet. I feel like that makes it much more enjoyable to watch."
New episodes of Yellowjackets season 2 premiere on non-linear platforms on Fridays. The episodes also air Sundays on Showtime.
Click to Subscribe to Get Our Free HollywoodLife Daily Newsletter to get the hottest celeb news.