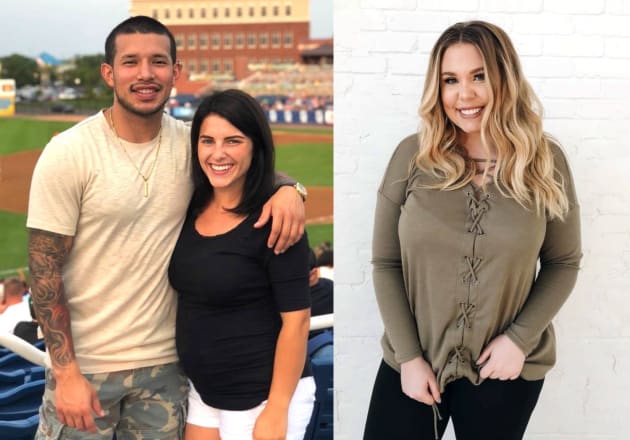 Kailyn Lowry takes a lot of flak on social media for the decisions she makes in her personal life.

Kail likes to say she's been unlucky with men, but her haters believe all of her suffering is self-created, and she's a victim of her own bad decisions.

The truth, of course, is probably somewhere in the middle.

But if the latest rumor about Kail's love life is true, well … it won't be easy for us to continue defending her.

Folks, it seems there's reason to believe that Lowry is back together with Javi Marroquin following his most recent breakup with Lauren Comeau.

At first, we didn't believe it ourselves, but at this point, we have to admit that the evidence is pretty compelling.

Take a look:
1.
Say It Ain't So

Teen Mom 2 fans are convinced that Kailyn Lowry and Javi Marroquin are secretly dating. And as far-fetched as that rumor may seem, it would explain an awful lot.
2.
The Disruptor

As you probably recall, Kail played a major role in Lauren and Javi's most recent (and seemingly final) breakup.
3.
Kail Tells Her Tale

During an October episode of Teen Mom 2, Kail alleged that Javi tried to have sex with her in a Wawa parking lot while she was pumping gas.
4.
Speaking Her Truth

"You're willing to come to Middletown to f–k me but you won't come to Middletown to meet me to get your son or even meet me halfway to get your son?" she said to her producer. "Only if it benefits you in a sexual way? Now you're being disrespectful and I'm going to disrespect the f–k out of you."
5.
Wawa … Wow

While we're sure the convenience store chain appreciated the shout-out, this probably isn't their ideal form of product placement.
6.
Putting Her Foot Down

Lauren might have caught Javi cheating and forgiven him in the past, but this time, she stuck to her guns and left his ass for good.
7.
The Squeaky Wheel

Last time, Javi publicly begged for Lauren for a second chance, until she finally caved in and moved back home.
This time around, Javi's pleas fell on deaf ears. Of course, it also seemed as though he put significantly less effort into winning Lauren back then he did the first time. And there might be a good reason for that …
9.
Theeeeey're Back!

Believe it or not, there's real reason to believe that Kail and Javi are back together.
10.
The Guilty Parties?

In fact, there are indications that Kail and Javi have been sleeping together for the entire duration of Javi's relationship with Lauren.
11.
The "Evidence"

On Tuesday, January 19, Lauren went on Instagram Live to confirm that she and Javi have broken up.
12.
Real Pain

"I'm never gonna air dirty laundry on the internet. My mama raised me better than that. I do think I deserve to come on here and show some real f–king pain," Lauren began.
13.
Temporary Delawarean

She went on to describe herself as a "single mom" who's currently "stuck" in Delaware (she's originally from Maine, and she returned home following her first breakup with Javi).
14.
A Difficult Position

"I'm just here to pick up the pieces with my kid, stuck here with no family or friends," Comeau complained.
15.
Speaking Out?

While Comeau previously posted cryptic memes and quotes about "toxic people" and the importance of removing them from your life, this is the first time she's spoken directly about the Javi situation.
16.
… Or Holding Back?

But some of her followers think Lauren didn't tell the whole story.
17.
Spilling New Tea?

On Reddit, several fans are claiming that Lauren hinted at a Javi-Kailyn reconciliation. And she may have suggested that the exes have been secretly hooking up for years.
18.
Devastating News?

"I just caught the end and where she was saying she got some devastating news about the last three years and was talking about javi and kail," one redditor wrote.
19.
Shots Fired!

"She ended it by saying 'if you see javi driving around in a black suburban today you know why' and I'm so confused, did she say at the beginning what happened? Did anyone happen to screen record. My heart hurts for this poor girl!" the commenter continued.
20.
Kail Caught?

So is Lauren really implying that Kail has been banging Javi AND she bought him a new car? That's too ridiculous to be true, right?
21.
Further Evidence?

"Kail and Javi hooking up, well, that was obvious from the way Kail started to panic when she realized what she had done," one fan wrote. "Her sudden burst of empathy wasn't about therapy, it was about controlling the narrative,."
22.
Busted?!

Well, as the Teen Mom Tea Instagram page points out, they were recently at the same dealership at the same time!
23.
Oh, The Irony

"F–king Kail literally has a podcast called 'Baby Mamas, No Drama,'" one viewer pointed out.
24.
Should've Seen It Coming?

"I called it months ago that Kail would hatef–k Javi just to spite Lauren," another person chimed in.
25.
The Chris Connection?

Some fans believe Kail is ruining other relationships because she's upset about her most recent baby daddy. "The saddest part about this, if true, is that IMO I don't think Kail even wants Javi. She's constantly rejected by Chris, and Lauren is the one who suffers as a result," one wrote.
26.
The Creed Question

And then there are the folks who think baby Creed is actually Javi's kid … but we'll leave that speculation for another day.
27.
More to Come …

Kail has yet to respond to the allegations, but you can be sure there's more drama coming soon. We'll keep you posted!