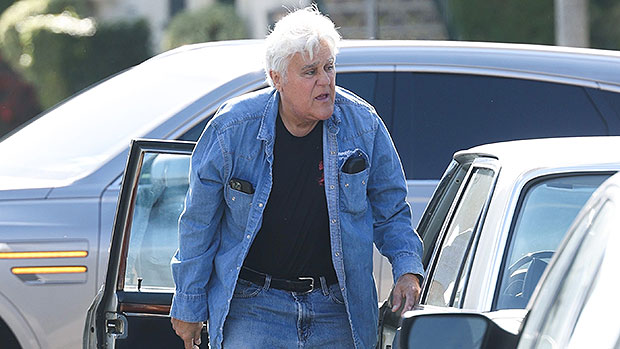 Jay Leno is continuing to crack jokes about his "brand new face" about four months after his face caught on fire in Nov. 2022 during an incident with his car at his Los Angeles home. The 72-year-old former Tonight Show host appeared on the March 1 episode of The Kelly Clarkson Show and seemed to be in high spirits after Kelly Clarkson, 40, told him he was looking "great". With a smile, he replied, "This is a brand-new face! It is, it's unbelievable."
Jay had missed his last scheduled appearance on Kelly's NBC talk show due to the accident, which occurred as he was working on his 1907 White Steam Car with a buddy and caused him to receive third-degree burns. "What happened, I was working on a car and I got a full face of gasoline and it caught fire. And I had been eating a flaming hot Dorito and when I bit into it, it set my face on fire," he fibbed. "It was pretty bad," he said, getting more serious.
Before long, though, he reverted to his light-hearted and silly self. "You think there'd be a zipper here or something," he said as he reached for an invisible zipper on his neck after Kelly said "you can't tell at all" that he received such severe facial burns. "No, this is like a brand new face. Only for the second time in my career am I the new face of comedy," he joked, causing Kelly to crack up.
The star endured an eight-day stay in the hospital following the scary accident and admitted he only missed two comedy shows he had scheduled at the time. "It was a great way to burn calories," he added, joking once more. "First you burn off the calories. Then you go on a crash diet on your motorcycle and I dropped 20 pounds."
News of the freak accident circulated one day after it happened on Nov. 14, 2022. While fans were concerned, the comedian seemed optimistic about his recovery. "I got some serious burns from a gasoline fire. I am ok. Just need a week or two to get back on my feet," he told the Daily Mail in a statement. Although the Dorito story he shared on The Kelly Clarkson Show was humorous, a Dorito chip did not actually cause Jay's burns. As noted above, he was working on his car with a friend to address a clogged fuel line, which ended up being a fuel leak. He was accidentally sprayed with gasoline, which then caught on fire because he was positioned so close o the car's pilot light. Luckily, he made a fast recovery and now tells the tale with an abundant amount of humor.
Click to Subscribe to Get Our Free HollywoodLife Daily Newsletter to get the hottest celeb news.