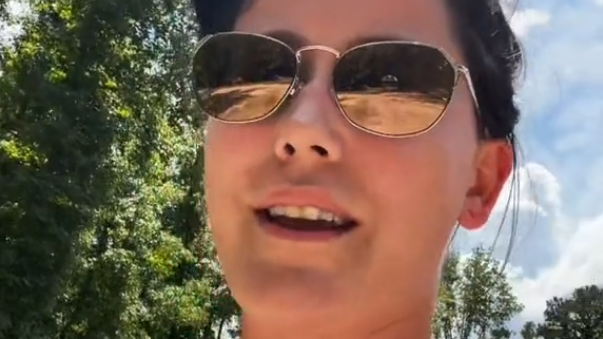 To the world's collective horror, MTV announced the return of Jenelle Evans earlier this month.
She's not going to be a series regular, but still. A lot of fans are still reeling from shock.
But Jenelle has her own following, both on social media and on OnlyFans.
She's promoting the heck out of the latter, showing herself almost busting out of her skimpy top in a recent video.
For a lot of very valid reasons, many people don't exactly like Jenelle Evans.
That does not mean that they do not enjoy, ahem, looking at her.
Jenelle's allure was in full effect as she gave her TikTok followers a walking tour of her weekend plans.
Jenelle wore a skimpy top well above her jean shorts.
Speaking to the camera, we could already tell that she was planning to go outside, given her sunglasses.
Then, viewers watched as she tied up her hair. It's a small thing, but it can make a difference in the miserable August heat.
"Alright, so here's the deal. I filled my wine up," Jenelle narrated to the camera.
"It's a Sunday," she noted. She held up a pink tumbler glass.
"The kids don't have school today," Jenelle added.
"We got some gas for the four-wheelers," Jenelle shared.
"And," she described, "we're going to do some dirt bike riding and four-wheeling today. Let's go."
She took viewers outside, showing the Duplin County white wine that she was enjoying.
Jenelle shared footage of her 5-year-old daughter, Ensley, and her widely despised husband, David Eason, riding ATVs in the yard.
"Kaiser's somewhere around here," Jenelle commented, referring to her 7-year-old son.
Sure enough, we then saw video of him riding another ATV. Apparently, on The Land, one is never too young or too intoxicated to operate a vehicle.
North Carolina is a humid sub-tropical zone, meaning that the climate is not only hot, but feels hotter.
Moisture in the air holds the heat, not unlike a sauna. It feels inescapable, and sweating does not help much if at all.
Jenelle commented, noting: "Y'all, it's like 100 degrees out here. I can't take it."
Strange to relate to something that Jenelle Evans says, but she's not wrong.
In fact, Jenelle is in the more sparsely populated eastern portion of North Carolina.
Her county, along with several surrounding counties, could be looking at heat indexes of 125F during summers in the next few decades.
Jenelle did use the opportunity to show off her in-ground pool and hot tub.
She invited viewers to "check out" her yard's luxurious centerpiece.
However, she also had a question for her followers, noting that the waters were not quite crystal clear.
"Can someone please help me with the cloudiness?" Jenelle asked.
"I don't know what to do," she confessed.
"Send help," Jenelle concluded. Certainly, she needs all of the help that she can get.