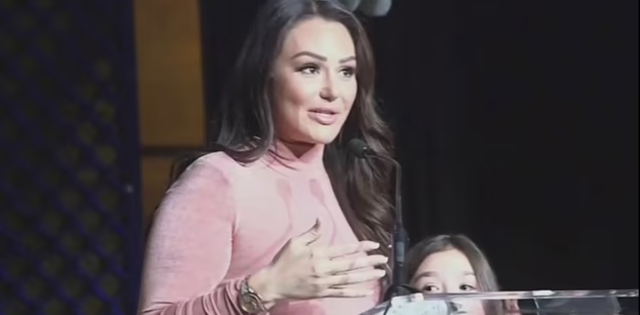 Jersey Shore is not a show that's known for its heartfelt moments.
These days, the show is basically a reality sitcom, and the cast pretty much roasts each other non-stop.
It's basically the MTV equivalent of It's Always Sunny In Philadelphia.
But Thursday night's episode featured a genuinely moving scene as Jenni "JWoww" Farley paid tribute to her 6-year-old son Greyson.
Jenni and her family were honored at a gala hosted by KultureCity, a nationwide organization offering services to individuals with autism.
"I have been with KultureCity for over three years. And this is actually my first speech with KultureCity because if you know me, you know that I am petrified and awful at speeches, so here we are," JWoww began.
"A few years ago, my son Greyson and I were departing Orlando Airport after his autism diagnosis. While waiting for a delayed flight, Greyson could no longer handle the sensory overload," the mother of two continued.
"It was just too much for him. I didn't understand what he was going through. I didn't understand sensory overload, sensory needs."
Jenni went on to explain how the situation escalated from there, and the silent judgment of passersby did little to calm her nerves.
"And the worst part of our experience was the fact that the airline airport and the people surrounding us didn't help," she said.
"They kind of just stood there and watched and most likely thought that I was just a bad mother and I couldn't control my two-year-old son when obviously that wasn't the case."
Fortunately, that painful situation yielded major progress, as it inspired Jenni to fight for a more inclusive airport experience.
"At KultureCity, we create sensory accessibility and inclusion for those with invisible disabilities," she told the crowd during her speech.
"My goal at KultureCity is to make every airport sensory inclusive certified so no family goes through what I went through."
Jenni concluded her speech with a shout-out to the boy who made it all possible.
"And to my hero, Greyson, mommy is so proud of you," she said.
Farley then turned the mic over to her daughter Meilani, who also sang Greyson's praises.
"Hello. I'm Meilani. I don't really know how to do speeches but I'm really glad that I have a brother like this," the 8-year-old said.
"And I get to go on his therapy with him and hang out with him sometimes. And at school I do my homework with him and he kind of helps me sometimes, too," she added.
"And he's a really nice brother to have around. And always so supportive," Meilani concluded to thunderous applause.
"This moment could not be more perfect. Greyson has overcome so many obstacles in life that I just could not be more of a proud mom," Jenni told Jersey Shore viewers in a confessional segment.
"And I never thought it could actually be this good."
It was a nice change of pace from the never-ending Angelina-Mike drama that's dominated this season.
And it was a poignant reminder that there's more to the Shore crew than fist-pumping and name calling.