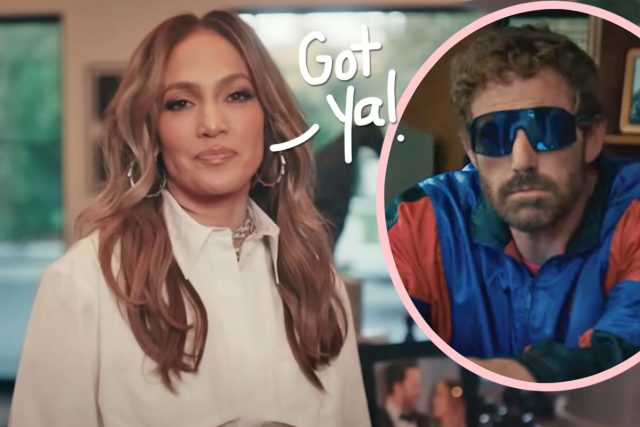 Jennifer Lopez just can't get enough of Ben Affleck's "happy face."
Unless you've been living under a rock, you'll know the Argo director went viral for looking absolutely miserable at the Grammys last Sunday. Throughout the glamorous ceremony, he had a classic expression of apathy written across his face in bold letters, and despite J.Lo's best efforts, he just could not be bothered to switch it up! We've gotta say, the man stuck to his guns, and we can respect it, LOLz! Now, Jen is taking her opportunity to poke fun at him!
Related: Jen Gushes About Ben Giving Her 'Best Year' Since Having Kids!
On Thursday, while promoting his latest directorial feature, Air, which tells the true story of Nike's pursuit of basketball legend Michael Jordan to exclusively wear their shoes, the Hustlers star uploaded the trailer to her Instagram… But with a catch! She inserted a still image of Ben, who plays Nike co-founder Phil Knight, looking just as miserable as he did at the Grammys, but in character for the movie, with the caption:
"My husband's happy face"
LOLz! Sounds like someone's just not quite over it yet! See (below):
This wasn't the Jenny from the Block singer's first time acknowledging the event, as she seemingly attempted some damage control Monday, uploading a montage video of her favorite moments from the star-studded night. In the footage, she shared a few snaps of her and Ben posing together, with the caption:
"Always the best time with my love, my husband"
As we reported at the time, fans weren't quite sold on her rebrand of the evening, commenting things like:
"Leave Ben home. Clearly it's not his thing"

"The pictures and video I saw did not portray happiness."
Related: J.Lo Had PTSD Ahead Of Wedding To Ben! Here's Why!
In the following days, fans, and even some professional lip readers, have been making their best attempts at trying to figure out exactly what went down at the famous award show to cause Ben to look so displeased. Wednesday, a seat filler who was placed next to the couple spilled the tea on what they were discussing, and apparently Ben knew full well he was becoming a meme! She explained in a TikTok:
"J.Lo showed Ben Affleck the phone and was like, 'Oh my god, honey, look at this meme circulating about you,' and he was like, 'Oh god, this again.' Like, he knew during the performance that he was a meme. Like he knew, and he also chose just not to change his expression. I love how unbothered that is. So, I know that she was like on her phone and saw it and was like, 'Honey this is so funny, look at this,' and he was like 'Jesus Christ.'"
LMAO!! See the full TikTok (below):
Like we said, we gotta admire the man's consistency.
What are YOUR thoughts on Jen's acknowledgement of Ben's viral moment, Perezcious readers? At the very least, did it sell you on Air?? Let us know in the comments down below!