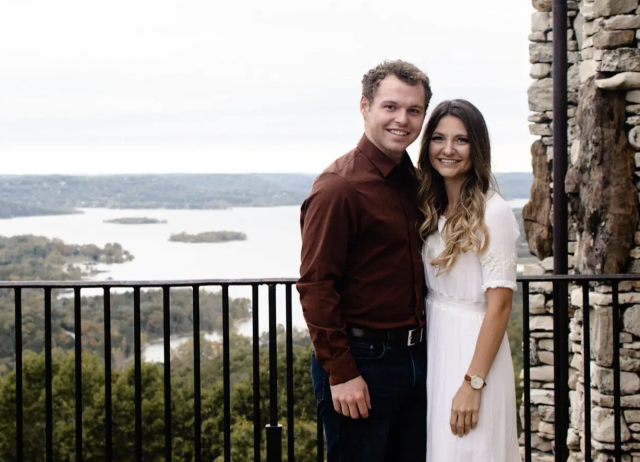 Jim Bob and Michelle Duggar's main hope for their children is that they follow the path that their parents had laid out for them.
So if it's safe to assume that the former reality stars now spend most days unable to get out of bed due to the crushing weight of their own disappointment.
Because for better or worse, Jim Bob and Michelle's kids have very much gone their own way.
In the plus column, there's Jinger Duggar, whose recent memoir has made her an inspiration to progressive young Christians
And on the opposite end of the spectrum is Josh Duggar, who's currently serving a 12-year sentence on child pornography charges.
Both offspring have strayed from their parents' path, but in very different directions.
And in between those two extremes, we find Jerermiah Duggar and his wife, Hannah.
Jeremiah and Hannah got married in March of 2022, and like the good Duggars they are, they got right to work making babies.
Just six months after the wedding, the couple announced that they were expecting, and on Christmas Day, Hannah gave birth to their first child.
(The Duggars, as you may know, are heavily into Jesus, so we're sure much has been made of that birthdate.)
So some in some ways, Jer is a regular chip off the Jim Bob block.
But it's been rumored that the patriarch doesn't approve of the 24-year-old's lifestyle.
That's because Jer, Hannah, and baby Brynley are road warriors.
The family makes their home in a "fifth wheel" trailer, so called because it can be pulled behind Jeremiah's truck.
After weeks of speculation in the couple's Instagram comments, Jeremiah confirmed the unusual living arrangement in a YouTube video posted late last year.
"We are living in a renovated camper," the father of one told his audience.
Now, the accommodations are not quite as spartan as they sound.
Jer and Hannah's place is equipped with a working bathroom, shower, and even a small breakfast nook.
Still, fans worry that new mom Hannah might be find the living situation a bit stressful.
After all there's only one bedroom, which means she can't very well leave the kid with Jeremiah and go take a quick nap.
For their part, Jim Bob and Michelle have not spoken out about Jer and Hannah's unorthodox lifestyle, but it's safe to assume they're not fans.
After all, the tight quarters mean that the couple won't have enough room to expand their family — and if there's one thing the Duggars love, it's family expansion!