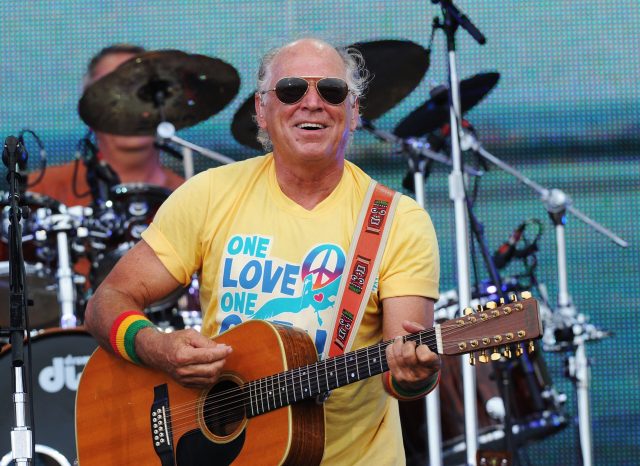 We have an update on the tragic death of Jimmy Buffett.
As previously reported, the iconic musician died on Friday night at his home in Sag Harbor, New York.
The singer — best known for his laid back lifestyle, as highlighted in the smash hit song "Margaritaville" — was 76 years old.
"Jimmy passed away peacefully on the night of September 1st surrounded by his family, friends, music and dogs," read a statement shared to the artist's social media page and official website this week.
"He lived his life like a song till the very last breath and will be missed beyond measure by so many."
Now, meanwhile, we can confirm that Buffett died.
Courtesy of an obituary posted to Buffett's website, we know that the star passed away from from Merkel cell skin cancer — which he had been diagnosed with four years ago.
Merkel cell carcinoma is a rare, aggressive skin cancer that often begins as "red, shiny nodules on the face, hands and neck," according to the MD Anderson Cancer Center.
Buffett had been open in the past about his health struggles.
"Growing old is not for sissies, I promise you," Buffett said after being forced to cancel a May concert in Boston, adding at the time:
"I also will promise you, that when I am well enough to perform, that is what I'll be doing in the land of She-Crab soup.
"You all make my life more meaningful and fulfilled than I would have ever imagined as a [tow] headed little boy sitting on the edge of the Gulf of Mexico."
In addition to the beloved songle "Margaritaville," the singer released such popular singles as "Come Monday," "Cheeseburger in Paradise," "Volcano," "A Pirate Looks at Forty," "Fins," "Changes in Latitudes, Changes in Attitudes" and "Why Don't We Get Drunk."
He also collaborated with Alan Jackson for "It's Five O'Clock Somewhere," a track many fans still reference any time they feel like having a drink during morning or afternoon hours.
After news of Buffett's death was announced, a number famous friends remembered him with moving tributes shared on social media.
Including Joe Biden.
A poet of paradise, Jimmy Buffett was an American music icon who inspired generations to step back and find the joy in life and in one another, said the President on Saturday.
His witty, wistful songs celebrate a uniquely American cast of characters and seaside folkways, weaving together an unforgettable musical mix of country, folk, rock, pop, and calypso into something uniquely his own.
We had the honor to meet and get to know Jimmy over the years, and he was in life as he was performing on stage – full of goodwill and joy, using his gift to bring people together.
Over more than 50 studio and live albums and thousands of performances to devoted Parrot Heads around the world, Jimmy reminded us how much the simple things in life matter – the people we love, the places we're from, the hopes we have on the horizon.
The artist is survived by his wife of 46 years, Jane; his daughters, Savannah and Sarah; his son, Cameron; two sisters, Laurie and Lucy, his grandson Marley and his "devoted pack of dogs" Lola, Kingston, Pepper, Rosie, Ajax and Kody.
In lieu of flowers, Buffett's family is asking fans to instead make donations to Jimmy Buffett's Foundation Singing for Change, Brigham and Women's Hospital, Dana Farber Cancer Institute or the MD Anderson Cancer Center.
May Jimmy Buffett rest in peace.