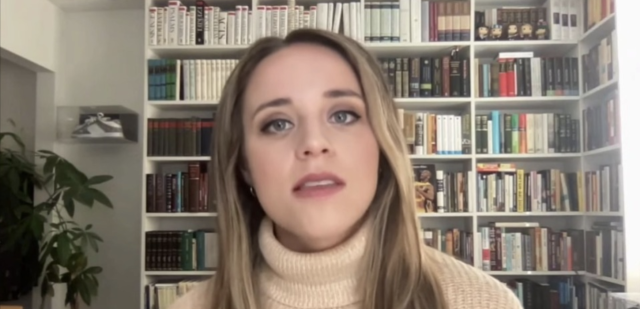 Earlier this year, Jinger Duggar published a memoir, in which she spoke somewhat candidly about her beliefs, her upbringing, and her controversial family.
We say somewhat candidly because some fans were disappointed by what they felt was a lack of full transparency on Jinger's part.
Many readers felt that Jinger went easy on her parents and glossed over some of the more scandalous aspects of her upbringing.
It's possible that Jinger is well aware of that criticism, as she opened up about some of the darkest chapters of her childhood in a new interview for Mayim Bialik's podcast.
Asked about the saddest point of her youth, Jinger recalled a time in which her parents' teachings made her feel judgmental toward everyone around her.
"It was like I had on these lenses that were viewing the world in a certain way. And I wholeheartedly believed it all," she recalled.
"I don't want to say, but in my circle I was like the most devout. I was so into these teachings," she continued.
"So if families were coming around and they didn't do all this stuff, if their kids are rebelling I'd think in my mind, 'They haven't learned these principles yet have they?'"
Looking back, Jinger regrets the sense of moral superiority that she felt in her early teens.
"So I felt like, even as a 13, 14-year-old girl I had it mapped out, how my life was gonna go, how my kids were gonna be raised," she told Bialik.
"And I would judge other people, even in my heart, for maybe sending their kids to a Christian school or for dressing in a way that I'd think would bring them damage."
Yes, even sending your kids to a Christian school was a sin in the Duggars' world.
Jim Bob has some bonkers beliefs, and one of them is that evangelicals who don't homeschool their kids are just setting them up to be brainwashed.
But Jinger says that despite the absurdity of his worldview, at the end of the day, Jim Bob was a loving and capable father.
"My parents always said their kids were their hobby, so they would always seek to pour into us, have fun, take us along on little projects they were doing," she recalled.
"Since he was in real estate, we would get to go to houses all the time… my parents sought to make it a happy home," she continued.
"I think when you look at the bigger picture of everything the sad part was for me that like, inwardly, I was wrestling with a lot of anxiety and fears.
Now, it seems to us that Jim Bob was a terrible father.
After all, he did nothing to prevent his daughters from getting abused by their eldest brother.
But we don't want to argue with Jinger about her own lived experience.
And hey, at least she's finally admitting that her parents taught her some ridiculous beliefs!