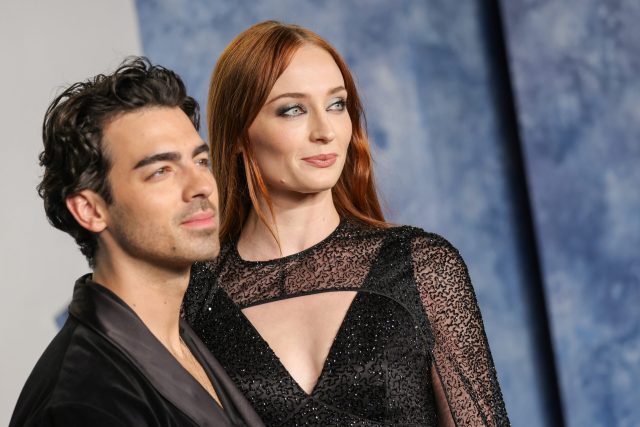 This week, Joe Jonas filed to divorce Sophie Turner following days of speculation.
The Jonas Brother and the Game of Thrones alum had been together for seven years. They share two young daughters.
However, alongside the filing, there have suddenly been reports that seem to insinuate that Sophie is the "villain."
Is this part of Joe's high-powered divorce attorney's strategy? Or is this just the way that our twisted world works?
An interesting new report came out this week.
TMZ shared that, according to a source, Joe Jonas chose to divorce Sophie Turner because she parties too much.
"She likes to party; he likes to stay at home. They have very different lifestyles," the insider claimed.
Joe filed for divorce on Tuesday. He also hired Tom Sasser, a powerhouse celebrity attorney (remember Tiger Woods' divorce?).
The two have a prenup and two young daughters — one 3, the other just 1 year old.
But the suggestion that Sophie is somehow too much of a party girl to remain married has many people feeling suspicious.
To be blunt, a lot of people on social media have observed that it looks like early reports are throwing Sophie under the bus.
Our society has a strong disposition towards blaming the wife, where applicable, in divorces. And if a mother of young kids is out partying instead of spending that time with her husband, that feeds into that narrative.
When it comes to celebrity divorces, the blame game almost always goes the same way. It's making fans suspicious of anything on social media. Because it sounds like a one-sided smear campaign.
Simply put, we have seen this kind of framing around a celebrity divorce before.
If anything, this is a mild example.
One of the most glaring examples of how this happens is the 2016 split of Brad Pitt and Angelina Jolie.
In the space of one private plane ride, the two actors went from Brangelina to exes. Angelina reported him to the FBI for child-abuse.
And at least one of their children — the one old enough to legally make such a choice — has wanted nothing whatsover to do with him.
Any sane, reasonable person can draw conclusions from this. However, so much of the media narrative has attempted to cast Pitt in a sympathetic light that he could never deserve.
Obviously, that's far from the only example. There are too many examples to list. It keeps happening, and it will keep happening.
Part of it's PR strategy. Part of it is the underlying misogyny that rots our culture from within.
And, to be blunt, a lot of people are gullible. If (hypothetically) your primary source on a trial between two exes is spiteful TikTok memes, you're probably not well-informed.
But we should emphasize that … there's a chance that Joe isn't behind this at all. His divorce attorney might not, either.
It doesn't take a bad woman or a spiteful partner to smear a woman in tabloid headlines. For that, look no further than Meghan Markle.
The British press in particular has spent years waging war against Meghan. Why? Because she exists. Because there's a sick appetite among readers to confirm their existing, hateful bias against her.
In other words, it wouldn't take Joe or his attorney or even TMZ (who would not knowingly report anything false) to want to make Sophie look bad.
There is a sizable audience that's eager to tear apart Sophie, or any woman. Especially if she is, or was, married to a heartthrob. For years, Joe was the hottest Jonas Brother. Some of his fans will not be hinged about this.
The good news? It sounds like Joe and Sophie are looking to quash weird "speculation" about their divorce. So long as things stay this amicable, maybe fans will (for once) be normal about a famous divorce.