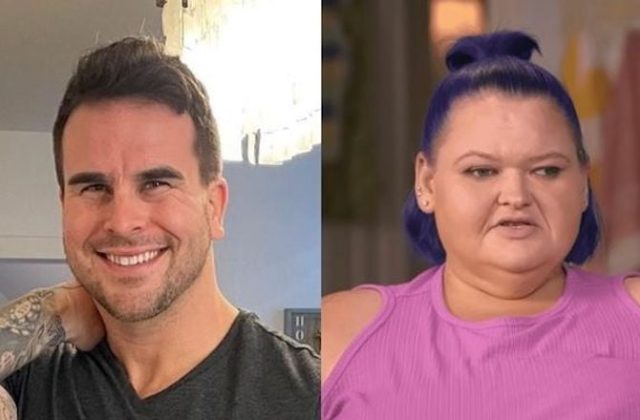 Josh Seiter is doubling down on his dating game.
The Bachelorette alum, who has been desperate to stay relevant ever since getting sent home early on Season 11, has been making been trying to flirt up a storm for days with 1000-lb Sisters star Amy Slaton.
He called her "gorgeous" last week, for example.
Does Seiter truly have feelings for Slaton?
Or is he just trying to make headlines by coming on to reality star who — to be crass yet honest — most observers would not consider attractive?
Seither would answer in the affirmative to the first question posed above.
"I'm going to Dixon [Kentucky] Wednesday morning," Josh told The Ashley on Monday, explaining that he lives about three hours from the Slaton sisters' town.
"I'm going because honestly ever since I first saw her on TV in 2020 I can't stop thinking about her."
Amy, unfortunately, is going through a divorce at the moment, as husband Michael filed to legally split from her in mid-March.
For his part, Seiter swears his interest is legitimate.
"My whole life I've been attracted to bigger plus-sized women, and she epitomizes the type of woman I'm attracted to," he says now.
"Because of societal pressures I was never open or honest about my attraction before, but I recently stopped caring what society thinks and that's why I'm being open about my attraction to Amy."
As you might expect, though, plenty of critics are dubious — especially because Seiter has also claimed to have a crush on Meri Brown.
"I also am drawn to Amy's sense of humor and overall vibe," Seiter continues.
"So it's not just physical, it's personality-based too.
"I'm a bit of an odd ball and her sense of humor is similar to mine.
"I like that she switches up her hairstyle, is crafty, is focused on being healthy, has a funky way of dressing, and is a great mother."
Thus far, Amy hasn't reciprocate Josh's affection.
But he's holding out hope!
"I actually just DM'd her for the first time today…so I'll see if she responds," he said on Monday.
"Yes, I'm going to show up at her sister's house where she's staying since the divorce and knock on the door the old-fashioned way.
"I will have roses, chocolates and her favorite sodie pop. Introduce myself and ask if she'll let me take her out to eat so I can get to know her."
In closing, it sounds like this visit will come as a surprise to Amy… unless she reads The Hollywood Gossip.
"She does not know I'm coming," Josh says. "
So basically I'm going down there to ask if she'll go out with me and be my girlfriend. I'd like to spend time with her and see where it goes."