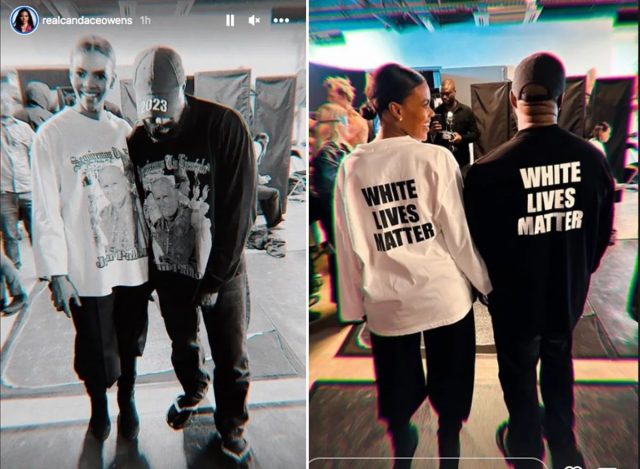 So much for Kanye West turning over any kind of new leaf.
Last week, the rapper actually issued apologies to both Kim Kardashian and then to Kris Jenner, following several months' worth of the troubled superstar dragging his former family members left and right.
Were we seeing a new, improved and fair-minded version of Kanye West?
As it turns out… no! Not one bit.
On Monday, West showed up at a Yeezy fashion show in Paris to showcase his Season 9 collection.
But instead of drawing attention to this brand, Kanye just drew attention to himself… by wearing a "White Lives Matter" T-shirt emblazoned with the Pope's face on the front.
The artist was also joined for the event by polarizing conservative Candace Owens, who donned a shirt with the same message and uploaded photos of the pair on Instagram.
"I am Ye, and everyone here knows that I am the leader," West said at one point, according to Page Six. "You can't manage me."
Clearly aware of the backlash that quickly ensued — model Linda Evangelista, for example, posted a single black square to her Instagram profile and wrote "Black. Lives. Matter. Today, fashion made me sad." — West immediately backed off and apologized.
We're just kidding.
He doubled and tripled down instead.
"EVERYONE KNOWS THAT BLACK LIVES MATTER WAS A SCAM NOW ITS OVER YOU'RE WELCOME."
West, we assume, is referring to a handful of unfortunate examples of executives who allegedly siphoned money from Black Lives Matter donors into their personal bank accounts.
Or maybe he's just saying a bunch of nonsense.
Because that's typically all he's ever doing when it comes to… pretty much anything and everything at all.
West, of course, also raised many eyebrows within the Black community when he visited with President Donald Trump in the Oval Office years ago and later wore a Make America Great Again baseball cap.
As for Kardashian's reaction to this latest stunt?
Kim isn't married to the screwball any longer, so we doubt she'll make any kind of official statement.
But an anonymous insider has spoken on her behalf to Hollywood Life.
"Kim is not surprised by Kanye decision to wear that on his shirt and thinks that he is, once again, trying to get attention," the source told this celebrity gossip outlet.
"She knows that he loves to start controversy and she is not even feeding into this.
"She thinks that he is making a horrible choice and that the message is very offensive to so many."