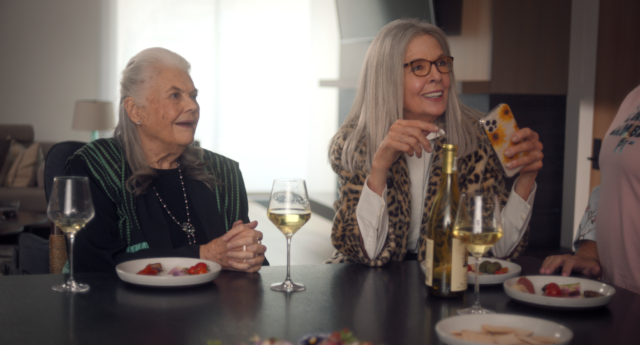 Katie Aselton is perhaps best known for her starring role as Jenny in the FX comedy "The League." She made her directorial debut with "The Freebie," which she also wrote and starred in, and followed it up with survivor thriller "Black Rock," in which she also starred.
"Mack & Rita" will be in theaters August 12.
W&H: Describe the film for us in your own words.
KA: "Mack & Rita" is the story of a young woman in her 30s who longs to have the sense of self of women like her grandmother. She confuses age with wisdom, and when she steps out of a regression pod in the body of a 70-year-old, she learns that living an authentic life isn't about how old you are, it is about being your truest self.
W&H: What drew you to this story?
KA: First and foremost, Diane Keaton. It was beyond a dream come true. Directing her was a dream I never dared to dream! But beyond that, I just thought the script had a really beautiful heart and a great message. And having it all wrapped up in the form of a comedy really sealed the deal!
W&H: What do you want people to think about after they watch the film?
KA: I would love for it to inspire people to accept what makes them weird/different/unique, and embrace those things. Let's all let our inner Rita out!
W&H: What was the biggest challenge in making the film?
KA: It was really important to me, in telling a story of authenticity, that the performances be grounded and real. So, honestly, one of the biggest challenges was to stay grounded and real in a world of body-switching!
W&H: How did you get your film funded? Share some insights into how you got the film made.
KA: We had independent financiers. We were supposed to make this film before COVID, and our budget and financing looked very different. When the pandemic hit, our financing took a major blow. We had to scale the movie way back in scope and make it for, ultimately, pennies on the dollar.
W&H: What inspired you to become a filmmaker?
KA: I came to filmmaking as an actor looking to create opportunity for myself, but I stayed for what the full experience gave me. I truly love the collaboration of filmmaking. From the very first iteration of the thought to putting it in front of an audience, I truly love it.
W&H: What's the best and worst advice you've received?
KA: Best advice: Thank your crew every day.
Worst advice: Stop thanking the crew so much.
I really believe in expressing gratitude and appreciating hard work. I don't know how to do their jobs. I don't pretend I could. I am deeply thankful for what they do and I am going to tell them. Even if some people think it makes me look soft.
W&H: What advice do you have for other women directors?
KA: Keep the conversation of equity going and keep it loud. I feel like they keep telling us things are changing, but I'm not seeing it to the degree that it needs to be happening.
W&H: Name your favorite woman-directed film and why.
KA: "Clueless" from Amy Heckerling. It is perfect. In every way.
W&H: What, if any, responsibilities do you think storytellers have to confront the tumult in the world, from the pandemic to the loss of abortion rights and systemic violence?
KA: If you have a hot take, get it out there. If you have a story to tell, tell it. This is the beauty of art. It is one of the greatest catalysts for change. It is a platform and a microphone. It creates conversation, and constant conversation on these topics is imperative.
W&H: The film industry has a long history of underrepresenting people of color onscreen and behind the scenes and reinforcing — and creating — negative stereotypes. What actions do you think need to be taken to make it more inclusive?
KA: It just has to be a conscious priority on every project, full stop.