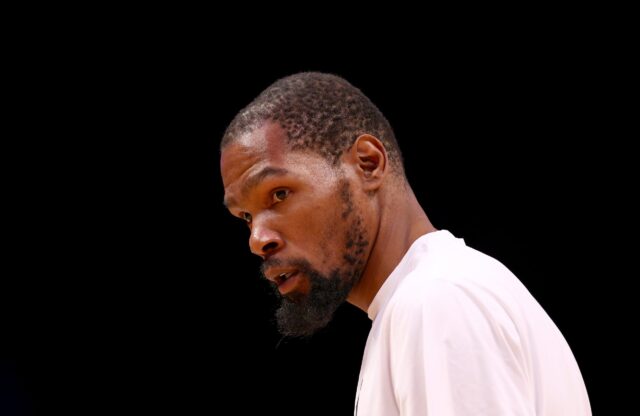 Kevin Durant wants out.
On the three-year anniversary of this all-time great joining forces with Kyrie Irving in order to take his talents to the Brooklyn Nets, sources have now confirmed the following:
Durant wants to be traded.
According to ESPN's Adrian Wojnarowski and Yahoo's Chris Haynes, Durant told Nets General Manager Sean Marks on Thursday that he'd like to be moved.
He did so just hours before teams are permitted to sign free agents, and his doing so now means that nearly every team in the league will be attempting to put a trade package together for Durant.
Yes, he can be prickly and petty.
But Durant is also one of the best 10-15 players to ever wear a professional basketball uniform.
Durant averaged 29.9 points, 7.4 rebounds and 6.4 assists this season, although he saw action in just 55 games during the regular season as he recovered from an MCL injury.
The Nets were swept in the first round of the playoffs by the Boston Celtics after finishing with a record of 44-38.
The above NBA insiders have said that the Phoenix Suns and Miami Heat sit atop Durant's preferred list of team… but he has four years left on his contract and no real leverage.
Any number of teams are likely to make Brooklyn an offer for Kevin Durant, who won the MVP in 2015.
Durant is also a two-time NBA Finals MVP.
He won a pair of titles with the Golden State Warriors after signing with that squad in July 2016.
A 12-time All-Star, Durant tore his Achilles in the final round of the 2019 playoffs, denying him and the Warriors a chance at winning three titles in a row.
He joined the Nets alongside Irving, hoping to bring a championship to New York City — only for both players to deal with injuries over their time together, and for Kyrie to miss a bulk of last season because he refused to get the COVID-19 vaccine.
As noted above, it's impossible to know where Durant may suit up next.
This is what Wojnarowski wrote on the official ESPN website this afternoon:
Phoenix and Miami are among two of the teams that Kevin Durant has on his wish list, sources tell ESPN, but the Nets plan to move Durant where they can get the best possible deal.
With four years on his contract, there's no shortage of teams willing to unload assets for Durant.
Buckle up, sports fans.
D
d