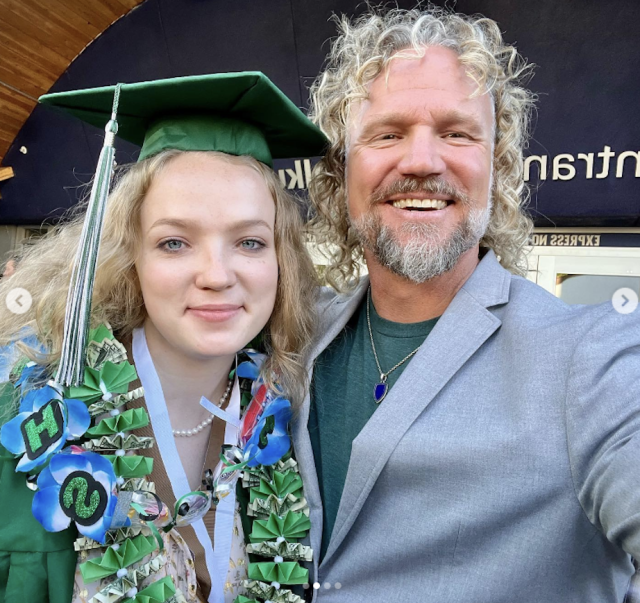 They may no longer be spiritual husband and wife.
But they'll always be father and mother to a number of beautiful children.
On Friday, Kody Brown and Janelle Brown put aside their differences in order to celebrate an important family occasion with daughter Savannah:
Her high school graduation.
The 18-year-old was spotted in a photo shared via her mother's Instagram Stories on May 26, standing on stage in her green cap and gown to accept her diploma.
She then uploaded a couple of snapshots herself.
One of them featured her standing alongside Kody.
The other featured her standing alongside Janelle.
Earlier that same day, Janelle shared a sneak peek at the teenager's senior portraits as she announced that her "Baby girl graduates today."
So exciting and so special for everyone involved!
Along with Savannah, Kody and Janelle share sons Logan, Gabriel, Garrison and Hunter; as well as daughter Madison.
They broke up late last year after Sister Wives viewers got a glimpse of their many issues — most notably the way Kody attempted to control Janelle and the aforementioned kids amid the COVID pandemic — throughout Season 17.
Janelle hasn't spoken much in public about the break-up, not directly at least.
But she recently explained that she's living by herself in an RV these days and she admitted that it's challenging to start fresh.
Brown remains very into fitness, as well, and it's hard to imagine she hasn't been sharing advice on weight loss (while also posting pictures of her so-called revenge body) in order to send Kody a message.
Look at what you've lost, dude!
As for any chance of reconciling with Kody?
"Kody could very simply have at least half of his family back," an insider claims to this outlet, adding by way of further explanation:
"Meri and Janelle would take him back if he was a changed man.
"It would take a lot of work to fix their problems, rebuild the family and move on peacefully, but he is optimistic."
That was very depressing to read initially, but then we took a breath and felt better.
Why?
Because in no way, shape or form will Kody ever change.
t