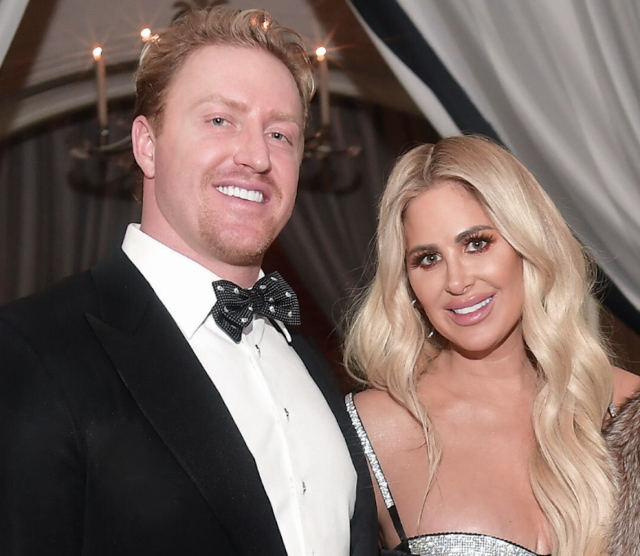 Kroy Biermann has filed for divorce from Kim Zolciak.
No, we are not a broken record.
Back in late April, the Bravo alum was the one who wrote in legal papers that her marriage to the former professional football player was "irretrievably broken with no hope of reconciliation."
Except… the estranged spouses did then reconcile about two months later.
Now, however, Biermann has gone ahead and filed for divorce, doing so on August 24 and also stating in his documents that their union as "irretrievably broken."
Kroy has requested full legal and physical custody of their four minor children, as well as alimony and child support.
He also wants exclusive use of their Atlanta-area home and seeks to ban Zolciak from the property.
Sadly, it sounds as if things aren't just over between the couple… but that they have once more turned very ugly in a very short period of time.
Earlier this year, amid the first divorce filing, Zolciak told a judge that Biermann had a marijuana problem and asked that he be drug tested.
A short time later, Biermann said that Zolciak had a gambling addiction and was an unfit mother.
Like we said: Ugly. Very, very ugly.
As for what prompted Kroy to end the marriage this time around? Once and for all, we presume?
According to TMZ, the pair had been fighting A LOT of late.
In the wake of well-publicized financial issues, Biermann and Zolciak often got into it over unpaid bills, with one insider telling the aforementioned website:
"They've gotten ridiculously petty over who hasn't paid bills. They're counting down to pennies."
This same insider described the state of the broken relationship as nasty.
Kim and Kroy apparently owe $1.1 million to the IRS in unpaid taxes, interest and penalties from 2013, 2017, and 2018.
They also owe the state of Georgia $15,000 for unpaid taxes from 2018.
The stars — who met in 2010 and who got married on November 11, 2011 — share four children: Kroy Jagger, 11, Kash, 10, and 9-year-old twins Kane and Kaia.
Zolciak is also mom to Brielle, 26, and Ariana Biermann, 21, from previous relationships.
After Biermann went public with his accusations against Zolciak in late May, the former Real Housewives of Atlanta cast member said through her lawyer:
"It's really sad the way Kroy is causing our divorce to play out in the media like this because it could have a profound effect on our children in the long run.
"To continuously spread lies in an attempt to paint Kim as an unfit mother for his own gain is harmful and incredibly misleading regarding Kim's efforts to raise her children."
In the end, we just hope Kroy and Kim keep these same children in mind as they navigate the painful and challenging process of divorce.